GL leaves for Brussels for crucial talks
In the midst of heightening human right violations allegations and speculations of its impact on the European Union's (EU) GSP+ trade scheme, International Trade and Export Development Minister G.L Peiris was scheduled to leave the country for Brussels and Britain, early this morning.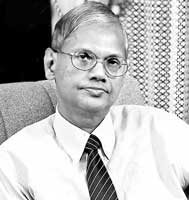 GL Peiris
The Sunday Times could not reach the Minister for comment but one of his officials confirmed the Minister's visit and said it was pertaining to the GSP+ trade negotiations. The official said Prof. Peiris will be joined in both Brussels and Britain by local garment industry representatives. In Brussels, the delegation is expected to discuss matters relating to the GSP+ and its extension for another three years and also meet the Ethical Trading Initiative (ETI) on March 13 on the industry's 'Garments without Guilt' programme, which industry sources say is connected in showing the EU that the industry is following best practices.
Senior officials from JAFF (Joint Apparel Association Forum), the garment industry's main private sector lobby, were however unaware of the trip while JAAF Chairman Ajith Dias was overseas and couldn't be reached.
Sri Lanka's garment industry increased exports to the EU by over 20% last year, mostly due to the duty free export facility of the GSP+ scheme. Much of the export growth has been to Britain and at this point Britain is Sri Lanka's largest export destination for apparel within the European Union bloc.
The Minister and representatives from the Joint Apparel Association Forum are due to meet both British trade representatives and also British businesses during the visit, industry sources said. The GSP+ is a preferential trade scheme awarded to Sri Lanka by the EU. The scheme was first introduced in mid-2005, after the December 2004 tsunami, to help with the country's economic recovery. However, the scheme was awarded to Sri Lanka on the basis of having signed and ratified 27 international conventions on human rights, labour and environmental standards.
This year the GSP+ scheme will be reviewed for extension. The decision on extending the scheme for another three years would depend on the implementation of the 27 conventions, according to the local European Commission office. However at this point Sri Lanka is facing increasing international pressure on the Government's human rights record and trade unions are alleging violations of labour rights.