Castaways: Safe for now, but what next?
Myanmar nationals don't want to go home
The Myanmar and Bangladesh nationals who were stranded at sea and rescued by the Sri Lanka Navy last week had each paid 10, 000 Bangladeshi Taka (roughly the equivalent of US$ 150) to their trawler's 'captain' in exchange for a job in Malaysia and a safe ride to the destination, one of the castaways has revealed.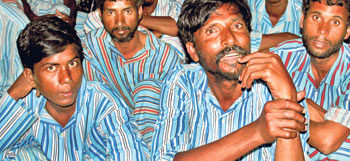 Lucky to be alive:The survivors at the detention camp in Mirihana.
The would-be-castaways had left their native shores on February 9 and a week later the engine of the trawler had failed and soon afterwards the captain had jumped into the ocean and had supposedly drowned leaving the others on board.
The 'captain', it has been revealed, was a 35-year-old Bangladeshi fisherman, Ali Ahmed and it is not yet known whether he drowned or managed to swim to another trawler that had reportedly been within the vicinity of the ill fated vessel, Bangladesh High Commission sources told The Sunday Times.
Ahmed hailed from a small southern Bangladeshi village, Mahesh Khali and Bangladeshi authorities are investigating his background, it is learned. A Bangladesh High Commission official said there is no reason to believe that Ahmed was involved in any organised human trafficking before and this was probably the first time he had ever attempted something like this.
The barely surviving castaways were rescued by the navy in the early hours of Monday while their wooden trawler was drifting aimlessly on the sea 150 nautical miles off the shores of Mullaitivu.The castaways are now housed in a detention camp in Mirihana until better accommodation is provided. They were brought to Mirihana from Trincomalee on Wednesday in two separate buses. Some of them appeared to be very weak and had trouble walking straight. They said they had nothing to eat for days while they were on board and had to survive on sea water. Added to that, the trauma of seeing some of their shipmates die right before their eyes and having to throw their bodies overboard was starting to take a toll on them However, they are in much better condition now under the care of the Immigration and Emigration Department.
Immigration Controller P. Abeykoon told The Sunday Times that discussions are being held with relevant authorities, including the two embassies on what needs to be done about them. Officials from the Bangladesh High Commission paid a visit to the camp on Friday and their Myanmar counterparts will do so on Monday. Representatives from the United Nations High Commission for Refugees (UNHCR) also met the castaways on Friday.
UNHCR External Relations Assistant Sulakshini Perera told The Sunday Times that the organization is looking into the matter and the government has been cooperative."We're working together with the government and the Immigration and Emigration Department. However, it might take several days to reach a conclusion as there are a large number of people involved," she said.
So far, 17 have claimed to be from Bangladesh and officials are verifying their identities."The Sri Lankan police are taking good care of them. They are in good health. The only complaint so far has been about mosquitoes. Right now, we're working on the identities of these people and are trying to figure out how many of them are actually from Bangladesh," the Bangladeshi official said
Meanwhile the Myanmar nationals insist they do not want to return to their country. When The Sunday Times asked the tired looking job seekers if they wished to go back home they all said a firm 'no' in unison. They said they feared reprisal if they got back and might have to even face being beaten up. The youngest of the lot, a 16 year old, second in a family of nine, said life back home was not easy. He has studied only up to Grade Five, he said.
"There is no future for us in our country. We're willing to do any job they will give us. We'll go anywhere; anywhere but Myanmar," he said.Attempts by The Sunday Times to contact the Myanmar Embassy failed.