Govt to get tough on gene-piracy
In the wake of reports that an academic attached to a research institute had allegedly attempted to smuggle samples of endemic plant genes out of the country, Environment Minister Champika Ranawaka has said steps will be taken to plug the loopholes in the law to curb bio-piracy.
He said that under Sri Lanka's wildlife laws, it was an offence to export plant or species substances without the prior approval of the Conservator General of Forest."Bio-piracy has been taking place in the country for many years. Since plants are quarantined, those who are involved in bio-piracy take gene extracts in capsules masqueraded as lipsticks or perfumes, though a small quantity of ten millilitres is allowed," Mr. Ranawaka said.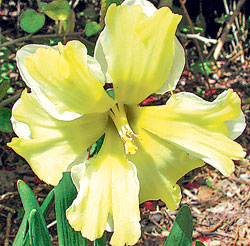 Plants protected for patents
Forest Conservator General Sarath Fernando said permission should be obtained if a researcher wants to extract a gene sample to take abroad for research purposes."The professor who was nabbed recently had obtained no permission to either conduct a research or make a sample. It is a violation of the law," he said adding that an export sample should be inspected by Forest Department officials who would give a no-objection letter to the Customs.
According to Mr. Fernando, a regulation passed in 2002 under the Forest Ordinance says that the export of gene samples should be done with the prior approval of the relevant authorities. The regulations were passed in order to preserve Sri Lanka's exclusive patent rights over endemic flora and fauna.
Mr. Fernando said if these samples were sent abroad for research purposes, there should be a clear-cut agreement over intellectual property rights if some medicinal drug was developed using Sri Lankan plants.A Customs official said that taking abroad a rare endemic plant without a permit is an offence."Professors and academic involved in research should know that there is a set of guidelines and procedures to follow when taking these samples abroad," he said.
When asked to give specific details of the recent case, the official say seaweed collected from Arugambay and Kirinda had been taken to labs in Kandy and cultured before gene samples were extracted into a capsule."Plant chromosomes sent abroad are used in the production of medicinal drugs and later patent rights are claimed on plants which are sometimes rare and endemic to Sri Lanka," the official said.
After the professor was nabbed at the airport, Customs official said they raided the labs of the Institute of Fundamental Studies and found about 40 chromosomes or gene samples. The samples had been sent to the Government Analyst, the Customs official said. The IFS is governed by a board whose Chairman is the President of the country. It was established under Parliament Act No.55 in 1981.
When contacted, IFS Director Keerthi Tennakoon denied the allegation that an IFS professor had tried to smuggle the plant substance."He was taking a sample to US for research. Customs have the right to seize the product," he said.