Living 'n' learning
Last year, a group of students of the Imperial Institute of Higher Education began work on a business project as part of their course requirement. It was a real-life business experience for these undergraduates who also set up a company within the group and assumed roles such as CEO, Marketing Director, PR Director etc. The students had to start from scratch and raise funds to develop, launch and market a product. They were being evaluated on how much profit they would receive on selling the product and how much of it would go to charity.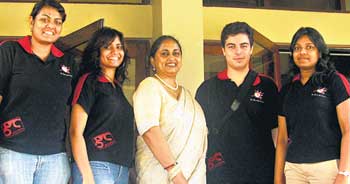 With the President of Seva Vanitha Engineering Regiment
The students picked a product close to their heart and through it wanted to make a difference in society. Their product was the Good Citizen concept. They worked on it for months and excelled. Last week, on March 1, 2008, four students of the initial business team, making sure they stick to their word, went down to the Panagoda camp where they met and made donations to the war-affected children and soldiers.
The Sunday Times caught up with Sheron Mendis, the Marketing Director of the team called Sunbeam Enterprise, who told us how the Good Citizen concept finished on a grand scale making a real difference.
"We printed t-shirts, as part of the Good Citizen concept", Sheron explained. The t-shirts had various slogans which focused on current social and environmental issues, such as 'save the Thalagoya' and 'when I am in charge war stops.' The group also worked on various fund-raising activities. "The funds were to go towards charity, but this was delayed because we had to work on our other coursework as well," she says, adding that it was a challenge to get everyone together to completely finish what they started. "Only four of us – that is Angela Gonawela (CEO), Mathew Lang (IT Director), Pemindee Gamage (PR Director) and myself worked till the end. So it was just us who went to donate funds," she explained.
The funds took the form of scholarships and other material for the war-affected children as well as the soldiers of the country. "We gave scholarships for 30 children who had lost a parent through war or had a parent who was disabled. But what was more important was that we were actually able to sit with the kids, talk to each and every one of them, listen to what they had to say and give them advice. These are kids who came from places like Ampara and Bibile, and all of them were between 5 and 15 years. It felt so good to do something like this," Sheron said.
We also donated 53 mattresses to soldiers, she said, adding that the Ranaviru Sevana Seva Vanitha organization also joined hands with them. "Mrs. Sarath Fonseka attended the function and we had a small ceremony," she explained. "We would like to thank everyone who bought our t-shirts, because, even if you bought just one t-shirt, you helped us in a big way," she said. "The DFCC bank also helped us with funds," she added.
The Imperial Institute of Higher Education is a validated center of the University of Wales and the project was done as part of the 'Seminar in Marketing' module of the BSc Hons in Business Management.
Now more than ever, employees are looking for practical experience and therefore such a project, as Sheron explains is indeed vital and valuable. Having graduated last September, Sheron, together with another member of the team hopes to continue working on similar projects. "Our company motto was 'making a difference' and this is what we have done,' Sheron says.