Avenues for mobile communication
Three weeks ago, we opened up a discussion in Techno Page about creative new ways in which mobile communication infrastructure could be used. I pointed out that thorough identification and registration process that mobile phone subscribers are subjected to in Sri Lanka, opens up the possibility for mobile phones to be used by their users to make payments in a way that is not very different from how credit cards or debit cards are used.
A few users wrote in demanding me to explain what I meant, so this week, I will oblige them with the details. In principle, what I pointed out was that mobile phones have the potential to be used as another method in which Electronic Funds Transfers at Point of Sale (EFTPOS) could be implemented.
When you use a credit card at the supermarket for example, the Point of Sale (POS) terminal at the check-out reads the information stored on the magnetic strip of the credit card and sends that information to the bank that issued your credit card, to verify that you are indeed authorised to make the specified payment. Simultaneously, your bank also guarantees that payment to the supermarket, so that you can take home what you have purchased. The supermarket on the other hand gets POS terminals from their bank – for which they pay a service fee. Even though supermarkets with a high turnover are able to afford these POS terminals, they are too expensive for roadside grocery stores to afford.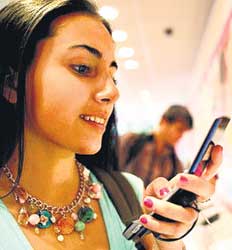 The point is, because mobile phones are 'mobile,' they have their own communication link and owing to the identity verification done when issuing a mobile phone connection to an individual, the identity of their users can be reliably verified– they can in theory, be used as a practical alternative to credit cards.
Imagine that your bank has a server that could process information received via SMS. Provided that the small grocery store near your house also had an account at your bank, linked to their mobile phone number, all you will have to do when you purchase something is to send your bank an SMS instructing them to transfer money from your account to the store's account (identified by its mobile phone number).
The bank could then send the store a confirmation SMS saying that the money has been transferred and charge a nominal fee for the service – probably no more than the cost of an SMS.
The magnetic strip on a credit card can transfer information about its user much faster than when you have to type out an SMS, but the cost of an SMS will be much less than what the store will have to pay for a POS terminal. Therefore, using such a system for EFTPOS transactions can potentially revolutionise retail trade in poor countries such as Sri Lanka where the growth in mobile phone use has been steadily increasing over the years. Imagine the possibilities it would open up – if for example you had to hire a three-wheeler home, only to find that you do not have enough cash with you, but could still pay the fee using your mobile phone!
Write in to technopage@gmail.com and join in the discussion.
Improve your computer literacy
Cloud Computing
Cloud Computing is a type of computing, comparable to grid computing that relies on sharing computing resources rather than having local servers or personal devices to handle applications. The goal of cloud computing is to apply traditional supercomputing, or high-performance computing power, normally used by military and research facilities, to perform tens of trillions of computations per second, in consumer-oriented applications such as financial portfolios or even to deliver personalized information, or power immersive computer games. A cloud computing network consists of large groups of servers, usually those with low-cost consumer PC technology, with specialized connections to spread data-processing chores across them.
This shared IT infrastructure contains large pools of systems that are linked together. Often, virtualization techniques are used to maximize the power of cloud computing. The standards for connecting the computer systems and the software needed to make cloud computing work are not fully defined at present time, leaving many companies to define their own cloud computing technologies.
Systems offered by companies, like IBM's "Blue Cloud" technologies for example, are based on open standards and open source software which link together computers that are used to deliver Web 2.0 capabilities like mash-ups or mobile commerce. Cloud computing has started to obtain mass appeal in corporate data centres as it enables the data centre to operate like the Internet work through the process of enabling computing resources to be accessed and shared as virtual resources in a secure and scalable manner.