Latin American nations end crisis with handshake
SANTO DOMINGO, Saturday (Reuters) - The presidents of Colombia, Ecuador and Venezuela ended a border dispute yesterday with a summit handshake after a week of regional diplomacy in the face of hostile rhetoric and troop buildups. "And with this ... this incident that has caused so much damage (is) resolved," leftist Ecuadorean President Rafael Correa said before standing up and shaking hands with his U.S.-backed conservative Colombian counterpart, Alvaro Uribe.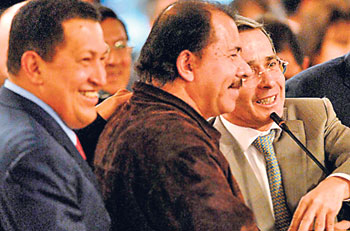 Colombia's President Alvaro Uribe (R), Nicaraguan President Daniel Ortega talk as Venezuelan President Hugo Chavez looks on. REUTERS
Venezuelan President Hugo Chavez, who had blamed the United States for the crisis as he sent tanks to the border with Colombia, joined in shaking Uribe's hand and applauded loudly and smiled.The dispute erupted last Saturday when Colombia raided inside Ecuador to kill a rebel leader. The resolution brought the summit to a surprise ending after bitter exchanges, including Correa calling Uribe a liar.
The accord came after Uribe apologized to Correa under pressure from governments across the region, which worked to prevent the crisis escalating into Latin America's first armed conflict among states in more than a decade. The dispute had spread across the region with leftist allies Venezuela and Nicaragua joining Ecuador in cutting relations with Colombia, while Venezuela and Ecuador sent troops to their borders against the strongest U.S. ally in the region.
Uribe also moved to meet another Correa demand, guaranteeing Colombia would not make similar raids if his neighbors cooperated in the fight against the Revolutionary Armed Forces of Colombia, or FARC. The resolution was a diplomatic victory for Latin America, whose governments from Mexico to Brazil managed the crisis by emphasizing negotiations and took advantage of their previously scheduled summit to force the sides to talk.
Still, the crisis exposed a left-right rift and sparked controversies that could dog the leaders even if their tough stances in the crisis generally bolstered their support at home.