Israel signals willingness to talk despite deadly attack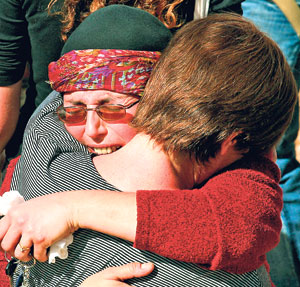 Friends and relatives of 15- year-old Israeli student Segev Peniel Avihail comfort each other during a funeral procession at the Mount of Olives Jewish cemetery overlooking the Al-Aqsa mosque compound known by the Jews as Temple Mount, on March 7, 2008. Avihail was killed together with seven other yeshiva students after a Palestinian gunman opened fire inside the Jewish religious school in Jerusalem last night. AFP
JERUSALEM, Saturday (AP) - Israel has signaled a willingness to move ahead with peace talks despite a deadly attack on a Jewish seminary in Jerusalem.
But a U.S.-backed Egyptian initiative for a cease-fire between Israel and Hamas appeared to be in trouble due to the violence, which shattered four years of relative calm in the holy city.
Outside the bullet-scarred seminary, thousands of mourners marched in funeral processions Friday for the eight young students gunned down by a 25-year-old Palestinian from east Jerusalem whose family said he had been distraught over this week's carnage in the Gaza Strip.
The bodies were taken away for burial. One of the dead students was 26; the rest were between 15 and 19.
Concerned about more violence, Israel slapped a closure on the West Bank and kept men under 45 from praying at Jerusalem's main mosque. And in a possible sign Israel suspects Lebanese guerrillas could have been involved.
Israel sent warplanes over Beirut, according to a Lebanese security official. Israel's army declined comment.
Despite the bloodshed, an Israeli official said his country would not cut off peace talks with the moderate Palestinian leadership – an apparent nod to Washington's insistence that extremist violence not be allowed to derail efforts to forge a deal by year's end.