Pak power-sharing deal today
ISLAMABAD, Saturday (AP) - The winners of Pakistan's parliamentary election will meet Sunday to finalize a power-sharing deal amid increasing pressure on the U.S.-backed president to quit following the defeat of his political allies at the polls, a party spokesman said.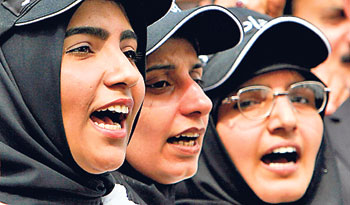 Lawyers chant anti-Musharraf slogans during a protest rally in Lahore. Reuters
Aides to former Prime Minister Nawaz Sharif and Asif Ali Zardari have been holding talks to discuss how to form a coalition government since the Feb. 18 elections when they routed the allies of President Pervez Musharraf. Zardari's party won the most votes, followed by Sharif's grouping. Zardari is the widower of slain opposition leader Benazir Bhutto. Today, Sadiq ul-Farooq, a spokesman for Sharif's party, told The Associated Press that the leaders of two winning parties would meet Sunday.
''Nawaz Sharif and Asif Ali Zardari will meet to give a final shape to matters about formation of the coalition government,'' he said, adding ''There is a progress in our talks.'' Ul-Farooq provided no further details.
Sharif -- whose government was ousted by Musharraf in the 1999 coup -- wants Musharraf to quit following the defeat. He also insists the former Chief Justice Iftikhar Mohammed Chaudhry and other judges sacked by Musharraf be reinstated. Zardari says such matters should be referred to the new parliament.
In a sign of Musharraf's diminished political authority and the growing clout of the mainstream opposition parties, seven lawmakers who contested the election as independents have since joined Bhutto's party, lifting its strength to 120, according to the Election Commission.
Four more independents have lined up with Nawaz Sharif giving him 90 seats. Voters returned just 51 lawmakers from the former ruling Pakistan Muslim League-Q to the 342-seat National Assembly, or lower house of parliament. Eleven seats are yet to be filled, mainly because of litigation and the deaths of candidates, including Bhutto.Sharif and Zardari lack the two-thirds majority needed in both the upper and lower houses of parliament to impeach Musharraf.