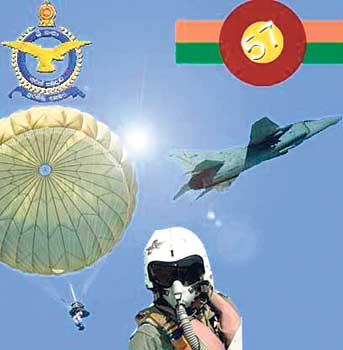 Sri Lanka Air Force (SLAF) forms a vital part of the Armed Forces in the country, the other two being the Army and the Navy. The Air Force recently completed 57 years, having been established as the Royal Ceylon Air Force on March 2, 1951, three years after Independence. Till then the Royal Air Force (RAF) operated when the country was administered by the British as a Crown Colony.
Even after Ceylon (as Sri Lanka was then called) got Independence on February 4, 1948, a Defense Agreement was in operation with the British government. Under this agreement, a request was made by the then Prime Minister D. S. Senanayake for assistance to set up an air force. The British government responded by sending a senior officer to help establish the local air force. He was Group Captain Graham Clerk Bladen who started by setting up a small office at the Galle Face Hotel. He functioned as the Commander.
With the office in Colombo, a Ground Combat Training Unit was set up at Diyatalawa where the army training camp was also functioning. Ten Sri Lankans were chosen as trainee pilots and using four Chipmunk aircraft they commenced their training at Katunayake.
Group Captain Bladen was succeeded by another British officer, Air Commodore John Lindsay Barker in 1958. Popularly known as 'Bouncing Barker' for his enthusiasm and exuberance, he was the last of the British officers. He handed over command to the first Sri Lankan commander, Air Vice Marshal Rohan Amerasekera in November 1962.
To date there has been a total of eleven commanders of the Air Force. The present commander, Air Marshal Roshan Goonetileke is the 12th commander of the Air Force which boasts of six bases and 15 stations spread throughout the country. Serving in these bases and stations are twelve flying squadrons and the numerous Engineering, Logistical, Medical Administration, Regiment and other support organizations of the Sri Lanka Air Force.
While the Air Force headquarters is in Colombo (Sir Chittampalam Gardiner Mawatha), the main air base is in Katunayake. China Bay houses the Air Force Academy and the Ground Combat Training Centre is at Diyatalawa. Except for five of these locations, all other places are home to an airfield.
In the recent past, the SLAF was at the forefront in the defence of the island, a task which it took on without hesitation and with determination.