Igniting an urban economy through Disney books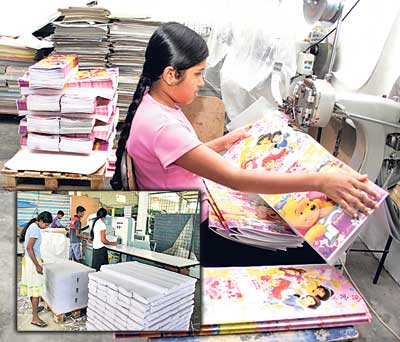 The production process. Pix by J. Weerasekera
Kurunegala - Entrepreneurial printer Caesar Richard Jayatissa says that over the years, consumers have shown an increasing trend in asking for high quality in their products. Richard Trading Co. (Pvt.) Ltd. has carved out a name for itself in the business and currently enjoys a prominent place in the market.
"My father started our business in about 1958," says Richard, at his main showroom in the Kurunegala town, "he started off small with window glass and picture frames". As an agent of the then newly-appointed State Printing mills, Richard Sr. introduced printing into the family business gradually. It was his son however who decided to take on the established printing giants on a larger scale. Candidly he admits that he was never too eager with his school work, "I always preferred to work here at the shop, and I wanted to do my own thing." With that in mind, and Rs. 250,000 in hand, he bought their first printing press.
Disney
In Sri Lanka, Richard Stationery has become synonymous with the Disney brand with its trademark exercise books with the famous cartoon characters on their covers. Obtaining the Disney franchise in 1998 turned out to be a windfall for the business. "We achieved better figures than they (Disney-US) expected," he says, adding that they were impressed enough to let them retain the label. Surprisingly however, according to Richard, Disney is only a relatively small segment in the business, as he admits that it is primarily a high-end good. On the other side of the coin, he also speaks about the detrimental effect of taking sole distributorship of a brand as well-known and loved as Disney. "It kills your own brand," he says. A token effort must be made to keep your brand afloat, which is why many think twice before accepting the challenge. However, with the franchise, Richard has managed to obtain an edge over his competitors in the middle and upper middle class markets.
Products
Richard Stationery specializes in notebooks, stationery and back-to-school stationery. The 'sample room' in the main shop in Kurunegala displays the vast array of products on offer, mainly from the Disney brand. The colourful and attractive pencil cases, notebooks, cash tills and exercise books with the celebrated characters however are not commonly seen in Colombo. According to Richard, the reason for this is that supplying to the larger stores has proved problematic; bills are often delayed and the resulting breach of trust makes transactions difficult, he says. Plus, the goods obviously go through a price hike with their entrance into Colombo, whereas one can't help but notice that in the Kurunegala store, the products are relatively low priced, for Disney goods.
The stationery printing factories are situated in Kurunegala as well. Importing the paper is inevitable, he says. Most of the paper is from Indonesia, and some of it is recycled. Although recycled paper is cheaper, its appearance is often not very attractive. The printing process is a complicated one, with each different type of book being subjected to a different process. Some books are stapled while the others are bound. There is also a new budget book which is in the process of being introduced. Although to the common man, the place seems bustling, the proprietor says that these months are usually 'quiet. The peak time for the printer is the December month, with the re-opening of schools generating its highest revenues of the year. Along with the exercise books are a number of other products. "We have close to 1000 different varieties in our project range," he says while showing us the new addition to that range: a publication of children's stories. There are also a number of interesting items such as colourful erasers, sharpeners, all types of glues and correction fluid.
Exempting imported paper from duties has been a blessing for printers, he says, "Exports doubled with that". Besides this, he argues that much more can be done. For instance, a VAT concession on exercise books, since they are essential items for education. According to him, when the CFA was in place and the A9 was open for transactions, the LTTE asked for their own 'duties' on goods going into the North. "They did not charge anything on exercise books at all," says Richard, pushing his point home.
On his marketing strategy, he is secure. "I have a very close personal relationship with everyone here." The staff is personally handpicked by him and is a close team of about 450. He stresses on the importance of monitoring consistency in employees and the benefits of being receptive to the ideas of everyone in the hierarchy.
"They will do anything for me," he assures, adding that he attempts to constantly keep up with the changing moods of the global marketing environment by researching continuously. Not only is he an avid reader on all things business-oriented, but he is also a firm believer of the beneficial effects of meditation, habit he says aids him in business decisions daily.
All the challenges of having his main showroom three hours away from the nerve-centre of the economy doesn't seem to bother him, "Actually Kurunegala is the best strategic location for me," he says, adding that his hometown has seen rapid development in the past few years, but that businesses lack drive and determination.
Speaking of challenges, Richard is defiant. "I don't consider anything a challenge, whatever comes, I will handle. I like challenges, they make life interesting!" he says.