Oil prices, huge defence bill cause of inflation- Minister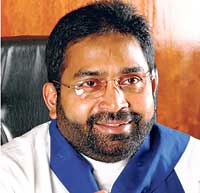 Ranjith Siyambalapitiya
The government is looking at ways of controlling inflation and the rising cost of living including raising interest rates to rein in deposits and reduce money supply.
As a major initiative towards this end the Central Bank is implementing a tight monetary policy to bring down inflation which is running at 21.6 percent at present. In an interview with The Sunday Times FT, Minister of Finance and State Revenue, Ranjith Siyambalapitiya attributed the rise in inflation mainly to the high global oil prices, and the defence expenditure of Rs. 117 billion which he said was out of the government's control. "It is not an easy task to reduce defence expenditure while having to fight a ruthless terrorist outfit with sophisticated weapons," he said. The minister revealed that the Central Bank will raise interest rates to curb lending and contain inflation. He added that people will be motivated to increase production and savings as another step towards containing inflation. He disclosed that there is a steady increase of revenue collected from income tax since 2000 while the government is expecting revenue of Rs 677.32 billion this year. Siyambalapitiya noted that the income tax revenue is projected to be 16.7% of the national income in 2008. Revenue from income tax has increased from Rs 182.39 billion in 2000 to Rs 541.45 billion in 2007. He paid a tribute to tax officers of the Inland Revenue Department for their untiring efforts in collecting Rs 541.45 billion last year.
The minister said the government's total expenditure for 2008 will be Rs. 1,515 billion, a 15 percent increase compared to last year's expenditure. The increasing expenditure will be financed by increasing tax revenue but he added that the government can achieve the revenue target. Over 100,000 new tax files were opened last year. The tax culture is being changed by reducing indirect taxes and increasing direct taxes, he said. The government will grant concessions to businessmen as well as large, medium and small scale entrepreneurs to actively engage them in strengthening the country's economy. He pointed out that this government needs the support of the private sector as it believes that this sector is the engine of growth .
Siyambalapitiya said the government will extend assistance to private sector institutions to go for foreign borrowings from reputed international monetary agencies. Action will be taken to halt competition among state commercial banks on a directive issued by the President to contain rising interest rates. The government will continue borrowings from state commercial banks and it was not a new practice, he said. He denied allegations that the Central Bank has resorted to 'wide scale money printing' to finance the fiscal deficit of the government. He disclosed that the Central Bank had tightened monetary policy by raising interest rates, conducting aggressive open market operations; and imposing certain quantitative restrictions on the provision of funds by the Central Bank to commercial banks. "In the next few months, we will see that our policy framework has worked and there will be a change of direction in inflation.'' Siyambalapitiya added.