Troops make progress in north, but major battles ahead

The sophisticated binoculars and other items found inside two travel bags in a three-wheeler scooter in Medawachchiya on Thursday.
State intelligence agencies have been paying close attention in the past two days to the goings-on in Mallavi, located in the Mullaitivu district west of the A-9 (Kandy-Jaffna) highway. This small township was once the centre of power for the Liberation Tigers of Tamil Eelam (LTTE). This was when Kilinochchi was under security forces control.
This new focus is after Thursday's killing of Jaffna district Tamil National Alliance (TNA) parliamentarian K. Sivanesan. They want to ascertain whether the LTTE leader, Velupillai Prabhakaran, would visit the slain parliamentarian's Mallavi home to pay his last respects. His funeral takes place today.
That interest, when Eelam War IV is raging, is understandable. Colombo's various intelligence agencies are somewhat confused over the multitude of reports on Mr. Prabhakaran's health. In the recent months, there have been claims that he was injured during an air raid. This was followed by reports that the guerrilla leader has had his leg amputated. None of the claims have been formally confirmed.
However, formidable sections of the intelligence community believe he is ill due to complications arising from a reportedly acute diabetic condition. Enhancing this belief are reports that some doctors living abroad were treating him. They had reportedly entered Sri Lanka illegally. In the light of this, the intelligence agencies are pondering over many questions. Main among them is one over who is now directing the military campaign, whether there is a line of succession and what is the hierarchical order.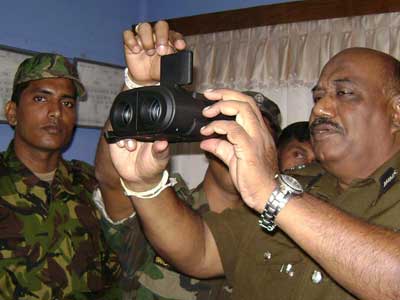 Army and Police officers inspect a pair of digital binoculars. Pix by Athula Bandara
However, members of UN bodies and international organisations whose staff are based in the Wanni or travel there periodically tell a different story. I met two of them. For obvious reasons they do not want to be identified in any way and spoke strictly on grounds of anonymity.
"They do not respond to questions about their leader or for that matter on anything military. I pointedly asked one of them about reports in Colombo that Mr. Prabhakaran was injured. He said such reports were not true," claimed one. Said the other "I learnt he had escaped an air raid narrowly. I also learnt he is still in full control."
In the absence of credible and conclusive information, only time can tell which version is the truth. It is not unusual for the LTTE to remain silent in the backdrop of reports about the health or whereabouts of its leader. During the devastating tsunami of December 2004, the LTTE maintained stoic silence over media reports of Mr. Prabhakaran's purported death. This was at a time when the militaries of some of the world's leading powers were in Sri Lanka engaged in relief and rehabilitation work.
The strong silence seemed to have distracted attention. Yet, after the LTTE leader surfaced, a new controversy was born. Some dissected photographs released by the LTTE and declared it was not Velupillai Prabhakaran because the nose or the ear was long or short. There are still a few who believe he is no more and a substitute plays the role of LTTE leader.
In the past weeks, some areas in the Wanni have been declared out of bounds for all except guerrilla cadres. Not even UN and INGO (International Non-Governmental Organisations) representatives, who could earlier visit, are now allowed. The Sunday Times learnt that the reason for this is the string of operations by the Army's Long Range Reconnaissance Patrols (LRRPs) has begun to cause serious concern for the guerrillas.
"These 'no go zones' were set up and security within was intensified to prevent LRRP intrusions," says a senior security official. The LTTE blamed the LRRP for Thursday's attack on Mr. Sivanesan. The Army, however, has strongly denied the charge. As a routine, they do not confirm or deny LRRP operations or comment on accomplishment of targets. In this instance, the denial came to make it clear they do not attack civilian targets, said a high-ranking Army official.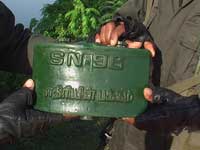 The Tamil wording on this Claymore mine reads "to be placed in the direction of the enemy". It was found near the Army transit camp at Anuradhapura.
Mr. Sivanesan, who was in Colombo to attend Parliament sessions early this month, had left early on Thursday. He had reached the entry-exit point at Omanthai at 12.20 p.m. After obtaining clearance, his two police guards had alighted from his Hi-ace van to stay behind. He and his driver had then proceeded. Around 1.20 p.m at an uninhabited spot between Puliyankulam and Mankulam, his vehicle had been hit by a claymore mine. His driver Periyan Maheswararaja (27) was killed on the spot. Mr. Sivanesan, a father of four children, had died when he was being transported to the Mankulam hospital.
Pedestrians stopped a passing vehicle had transported him to the hospital. Later, their bodies were moved to the Kilinochchi hospital for the post mortem examination. On Friday, 15 TNA parliamentarians travelled from Colombo to Mallavi to pay their respects to the late Mr. Sivanesan. Tiger guerrilla motor cycle outriders as well as those on trucks had provided security to them from Poovarasankulam onwards.
Mr. Sivanesan was the third parliamentarian to be slain within the first three months of this year. The others were P. Maheswaran who was killed at the Sri Ponnambala Vanesvarar Hindu Temple in Kotahena on January 1. The Government has accused the LTTE for the killing. However, Tamil groups charge that it was the work of a paramilitary group. On January 8, Tiger guerrillas exploded a claymore mine at Jaela killing non-Cabinet rank Minister for Nation Building, D.M. Dassanayake.
Mr. Sivanesan is known to be a staunch supporter of the LTTE and is said to have been nominated by the late S.P. Tamilselvan, to be a candidate for the Jaffna district. This was at the parliamentary elections in 2004. On Friday, the LTTE said its leader, Velupillai Prabhakaran, conferred the posthumous award "Mamanithar" (Great Man), the "highest honour" awarded by the group, on Mr. Sivanesan.
An LTTE statement said, "Freedom of the Tamils and the liberation of Tamil homeland are his life goals……. He longed to see free Tamil Eelam. To achieve these goals he accepted our movement, its political aim, the struggle we have launched and served dedicatedly……His services for the liberation of Tamil Eelam through his hard work and exemplary skills are immeasurable…"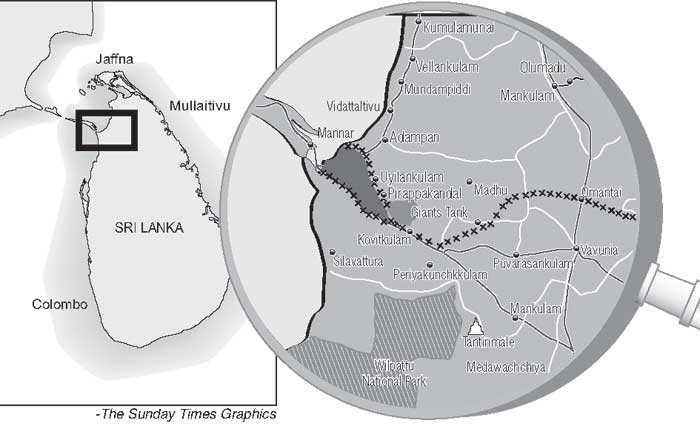 In the backdrop of Mr. Sivanesan's killing and claims by the LTTE that air raids had hit civilians, the guerrillas attacked an Army patrol yesterday killing one soldier and wounding two. The incident took place near Galge on the Kataragama-Buttala Road. Three soldiers from the Sri Lanka National Guard (SLNG) and three Army commandos had been travelling in a tractor from Galge towards Sella Kataragama on an administrative detail when the incident occurred.
An SLNG Sergeant seated on the mud guard (above the tyre) was hit by shrapnel on the head and died upon admission to hospital. Two other SLNG soldiers were injured. Army officials in the area say the claymore mine had been detonated by a remote device. Soon after the incident, guerrillas had fired at least 200 rounds of ammunition at the Army party. The commandos had engaged them before the guerrillas fled. A search operation got under way immediately thereafter.
Yesterday's incident further confirms the guerrilla efforts to destabilise the deep south. Since January 16, when a claymore attack near Buttala killed 27 civilians and injured 63, guerrilla activity in the area had shown a gradual increase. On January 17, the guerrillas shot dead five farmers near Okkampitiya. Thereafter, ten more civilians were killed in two separate incidents near Tanamalwila. Yesterday's incident came as further confirmation that the security authorities have still not been successful in neutralising the guerrilla group causing havoc in this area.
The string of attacks has caused panic and fear in the villages in the Buttala area. The fact that previous searches did not produce results may force authorities to intensify their efforts, a move that will necessitate additional strength. This is precisely one of the main aims of the guerrillas in destabilising the deep south. A repetition of similar incidents in other areas will necessitate further deployment of troops and police, a task that will pose a challenge to resources and enhance costs.
In the City of Colombo and immediate suburbs, the Police busting of at least three different cells of the LTTE has led to some disarray. Some 40 suspects arrested by different police stations have been handed over to the Criminal Investigation Department (CID). The revelations made by some of them have helped authorities to piece together at least details of how the guerrillas had planned their attacks. One group, with some of them posing as clergymen, had delivered explosives and bombs to towns including Kandy and Nuwara Eliya. Another had recruited underworld groups to seek intelligence to target important personalities.
Their confessions have led to newer measures to curb the possible flow of explosives and other military hardware from the North to the greater Colombo area. Vehicles originating from there are now being banned from proceeding direct to Colombo. One of the areas where the practice has gone into stricter use is the checkpoints at Medawachchiya. Those arriving there by vehicles from the Wanni are being told to resume their journey using alternative transport. Similarly, goods destined to the north are also being cross-loaded.
On Thursday, Police at a checkpoint in Medawachchiya checked a three-wheeler scooter. Found inside three travel bags were six digital binoculars equipped to take video pictures, five binoculars, sniper target cards, Laser torches, 12,000 Ferguson caps, batteries and battery chargers. Three persons – Nauzer Mohamed Riyas (22), Mohamed Sharif Faleel (31) and Farook Mohamed Farshan (26) were taken into custody. A fourth, whose name has not been revealed, had escaped. However, Police raided his house where they recovered a satellite phone and a walkie-talkie set. In Anuradhapura yesterday the Army discovered a claymore mine planted near a transit camp for soldiers.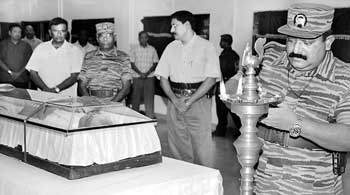 A picture released by the LTTE around 12.30 a.m. today (Sunday) showing LTTE leader Velupillai Prabhakaran lighting the traditional oil lamp when he visited an undisclosed location at Kilinochchi to pay his last respects to the slaim TNA parliamentarian K. Sivanesan. The picture was also posted on the pro-LTTE Tamilnet website.
Despite the busting of three different cells of the LTTE, Police warn, that their action does not mean they have altogether disabled guerrilla activity in the greater Colombo area. They say that these cells function independently with one not knowing the existence of the other. The discovery of the three cells, they point out, was a breakthrough due to leads given by those in custody. However, they warn that they suspect there were cells in existence that have not become known and say they may still be operating.
More than efforts to destabilise the deep-south or trigger off incidents in the greater Colombo area, an increasing priority for the LTTE now appears to be in the Wanni. That is to intensify their efforts to deny the security forces substantial incursions into their strongholds. Therein lies their future. In the Mannar sector, where the security forces launched their offensives in July 2, last year, the offensives continue. Even if the troops are yet to achieve their objectives, to seize control of the areas in and around the sacred Madhu Church and the Sea Tiger base at Vidattaltivu, they are making progress. In the past months military officials expressed confidence they were only some two weeks away from Madhu. Their own deadline passed but on Thursday troops made a significant advance. (See map on this page. It is not to scale)
They gained control of an area of 1.5 square kilometres encompassing Pirappakandal, north east of the Giant's Tank. This village is located near Uyilankulam, once a gateway to the Wanni from the Mannar sector. The task was accomplished by troops who are advancing on a flank west of the Giant's Tank. Troops who moved in an easterly direction had destroyed guerrilla bunkers and reached the western edge of the tank. Their advance came after two senior Army officers in the Mannar sector travelled to Colombo to brief the National Security Council last Wednesday. They were Security Forces Commander (Wanni), Major General Jagath Jayasuriya and Commander of the Army's 57 Division, Major General Jagath Dias, whose troops are deployed in the Mannar sector.
A column of troops moving from north of Janakapura in the Weliya Oya sector from January 7 has also advanced further in the stretch of "no man's" land that lay way ahead of Mullaitivu. The new areas seized lay north east of Ethavetunuwewa and west of the coastal fishing village of Kokkutuduwai. There have been a string of confrontations between troops and guerrillas in this sector. Troops attacked bunkers and strong points during their advance. But they have to traverse past thick jungle before they reach the guerrilla strongholds in Mullaitivu.
Besides the two major thrusts in Mannar and the Weli Oya sector, troops along the Muhamalai defence lines also carried out periodic attacks on guerrilla positions south of their locations. Further details on military activity in these sectors cannot be revealed due to serious constraints. During the debate on the extension of the State of Emergency, Leader of the House, Minister Nimal Siripala de Silva revealed that 104 soldiers were killed in action in February. A further 822 were wounded, he said. According to him, 80 civilians were killed and 201 wounded. He, however, did not disclose if there were any troops missing in action, and if so, what their numbers were.
The fighting on three fronts in the Wanni - Mannar sector, Weli Oya sector and the Muhamalai sector - becomes a decisive factor in the ongoing Eelam War IV. Though somewhat slow, the troops are fighting to continue their advance. It is clear the LTTE is striving to stall that. Thus, the ongoing war is yet to reach its peak.