He drove on as Tigers opened fire
Ethawetunuwewa claymore blast: Bravery of bus driver perhaps saved lives
The quick-thinking actions of the driver of the bus that got caught up in a claymore mine blast at Ethawetunuwewa, probably averted a much bigger carnage from occuring, The Sunday Times learns. Forty two year old K.P. Sunil Shantha, who was himself injured in last Monday's blast and was bleeding, had courageously kept on driving the bus, amidst LTTE gunfire, for about 100 metres, in spite of the tyres being deflated.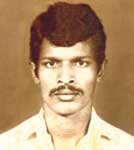 K.P. Sunil Shantha
Now recovering at the Anuradhapura hospital, Sunil Shantha said, "Soon after the explosion the vehicle filled up with smoke and I realized that the bus had been caught in a bomb explosion. My hands were bleeding and I couldn't see anything further than my seat because of the smoke. Simultaneously I heard the sound of gun fire and I realized I had to keep on driving. I realized that the tyres were deflated due to the blast, but I kept on driving because I knew if I stopped then there would be a greater number of casualties."
Sunil Shantha who has been the regular driver of the bus belonging to the Kebitigollewa depot said he drove on until the bus stalled."As soon as it halted, I jumped off the bus and hid in a Kovil for about 15 minutes until the soldiers arrived and evacuated the casualties," he said.
Police said the bus had taken at least six bullets and marks of the spent ammunition were visible on the body of the bus.
Police believe that LTTE cadres had infiltrated through the forward defence lines, despite there being guard posts every 150 metres or so.
This incident claimed 13 lives, and injured 15. In the aftermath of this claymore mine blast an army Buffel would be deployed to go ahead of a selected number of buses in this vulnerable village.