A Generous King
~This article is part of a continuing series on the 'Mahavamsa,' the recorded chronicle of Sri Lankan history~
1. By the time King Nissankamalla had established himself as the king of Sri Lanka, many had forgotten about Kalinga and Sinhapura. But when this king rose to power, they were referred to often. King Nissankamalla had proclaimed that the ancestors of this country were the people from his motherland. In his inscriptions he had laid down the fact that "One who is not a Buddhist, has no claim to the throne of this country." This reference would have been made, to exclude any claim made by the Cholas, Pandyas and Keralas. King Nissankamalla had been very generous in his donations to all Buddhist activities.
2. It is said that he had given material and money, equal in weight to his own weight. After weighing his queen and son, he had once again donated wealth to equal their weight. All his donations were towards the Buddhist priests, Brahmanas, the disabled, sick and the poor. Different categories of his subjects received land, cloth and jewellery. He had been extra kind to the poor.
3. He had tried his best to reform society. He thought of giving some relief to the people, who were already burdened by excessive taxes. He gave a concessionary period of five years, where they did not have to pay any taxes. Later, he introduced a lenient form of taxation, with the intention of putting a stop to theft and robbery. This king visited most of the places that had a religious significance. 'Adam's Peak' is one such place he visited. After visiting these places, he did something noteworthy, for the people to know that he had visited these places.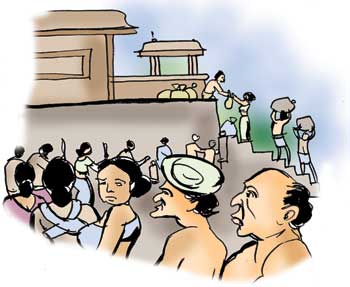 4. On one occasion, he went to Ruhuna. There he met the people, spoke to them, and made it clear to them that they should be loyal to the king, just as the people in the other provinces were. He instructed them to be 'law-abiding' citizens. According to certain scholars, King Nissankamalla would have entertained a fear, that the people would rise up in revolt, just like in the time of King Parakramabahu I. To muffle such action, he would have adopted this attitude. This king demarcated a distance of a 'gauva' (approximately two miles) and named it 'Nissanka-Gauva.'
5. Along the main road 'gauva stones' (like milestones) were placed at intervals of a gauva. At important junctions, dining halls were put up to serve food free. He ordered that the indisciplined monks should be forced to leave the 'Order.' But those individuals were supplied with a means of earning a living as a layman. King Nissankamalla gave serious punishments to the wrong-doers.
6. Although books on history record very little about him, we are able to gather a lot of information about this king from his inscriptions. However, his inscriptions have been written in a very flowery language, with a lot of exaggeration. It is these inscriptions that help us to consider him as the sole-ruler of the country then – as they are scattered all over the land.
7. The buildings that King Nissankamalla erected are full of grandeur. He beautified the city of Polonnaruwa. 'Rankot Dagaba' is one of the largest dagabas built by him. It is bigger than all the dagabas built since the 3rd century AD. The 'Vatadage' built near the 'Dalada Maligawa' is a masterpiece of our local art and architecture. 'Nissanka-lata Mandapaya,' which has pillars in the shape of a lotus stalk, is another magnificent structure built by King Nissankamalla.
8. According to certain scholars, Nissankamalla is the first king of a new dynasty – namely the Kalinga Dynasty. Some others believe that Parakramabahu I, is the most important king of that line of kings. But when we analyse the facts, we realise that there is some truth in identifying Nissankamalla as a Kalinga ruler, because he had been born in Kalinga. But as for Parakramabahu 1, he was born and bred here. Therefore, he should be considered a Sri Lankan king.