Look! there's a Meerkat among the new faces
Say hello to the recent arrivals at Dehiwala Zoo
"Hakuna Matata! It means no worries for the rest of your days… It's our problem-free philosophy… Hakuna Matata!" Remember Timon - the lovable Meerkat who was Simba's buddy in the Lion King? You can now observe the problem-free philosophy of two lovely cousins of Timon at the Dehiwala Zoo. They dig, they run, they stand and observe you vigilantly! Innocent and restless…you won't tire of watching them.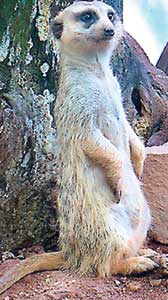 Meerkat
The pair of Meerkats arrived at Dehiwala Zoo on December 27 from the Singapore Zoo. The male Meerkat will celebrate its fourth birthday on January 27. It was bred in captivity but the female was born in the wilds of Africa, its natural habitat."Meerkats are the result of another successful animal exchange programme organized by the National Zoological Gardens," said the Zoo's Assistant Director Dammika Malsinghe. Two Giant Squirrels and a Mouse Deer were exchanged with the Singapore Zoo for this pair of Meerkats and a pair of Rhinoceroses Iguanas.
The Meerkat is a mammal that is a relative of the Mongoose. Meercats live in big family groups in the African savannah, working together in a team of hunters, guards and baby-sitters. They are clever animals, (which probably explains why they are not on the endangered species list) digging underground tunnels to take refuge from predators. These tunnels are linked together to create a home-like maze underground.
The Meerkat has the ability to stand up on its hind legs, using its tail for balance. The Meerkats in the Dehiwala Zoo are friendly but do not feed or disturb them… Let them enjoy their problem-free philosophy in their small enclosure near the swan lake in the zoo.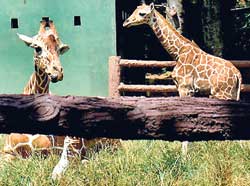 Baby giraffe
Meanwhile the lonely Rhinoceroses Iguana in the Dehiwala Zoo received a Christmas present when two new friends arrived just two days after Christmas from Singapore. Both the new Rhinoceros Iguanas are three years old and are now busy exploring each inch of their enclosure.
The reptile resembles a local thalagoya or land monitor but has outgrowths, like horns, on the end of the nose that give it its name. The Rhinoceros Iguana is a native of the Caribbean islands but is now a threatened species.
They can be easily observed basking in the sun in their enclosure at the entrance of the Reptilian section. Another new addition to the Zoo is a baby giraffe born on December 30.
Incidentally the Pinnawala Elephant Orphanage which is being administered by the National Zoological Gardens also welcomed a new baby elephant named Milinda on the 30th.