Meter Taxi to ease trishaw issues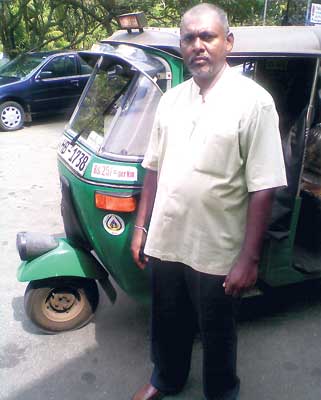 Lalith Dharmasekera Vithanage
In an era where public transport is appalling and together with horrendous traffic conditions, adding to the fray is the 'common man' who has to grin and bear more often than not when his popular mode of transport ' the three wheelers become too expensive and for the most part unsafe.
This may just be that time when many will welcome the advent of 'meter taxis'.
Meter taxis provide a respite to all 'trishaw issues' the commoners face, according to Lalith Dharmasekera Vithanage, President All Island Three-wheeler Welfare Association (AITDWA) . "Lalith' as he likes to be called told The Sunday Times FT that inspiration to start the meter taxi concept came through a personal experience involving his daughter.
"At a Parent – Teacher meeting held in her school, I managed to voice my opinions about a certain issue and subsequently some parties involved, who wanted to inquire about my background had asked my daughter what her father does for a living. When she had said that he is a three wheeler driver they had ridiculed her and she was upset. This incident left a lasting impression on me especially regarding the dignity of my profession."
Lalith said this incident had got him thinking about how to improve his profession's dignity and make consumers 'confident' about using three wheelers. "As three wheeler drivers we get a lot of criticism about various aspects involving our job from various quarters. Things such as no discipline, charges being high and driving haphazardly are all true to a certain extent," he avers.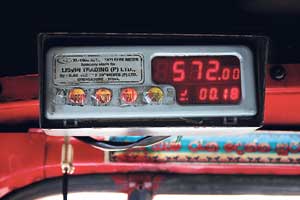 The meter
Lalith said it was in 2002, that he finally saw a way with the introduction of meter taxis by the Western Provincial Council. "But due to various issues this was not implemented and three years ago through AITWDA we decided to fix meters into our three wheelers. Thejasiri Gunatileeke a businessman in Kandy had tried this in Kandy and gave us two meters. Thereafter we were helped by Upali de Silva, Proprietor of Lisvin Trading, who gave us 20 meters to fix on our taxies for free," he explained.
He said three wheeler drivers who opted to go 'meter' worked out and decided on the charges. "Initially we started with Rs. 20 per 1KM and saw the consumers appreciating this, " he added.
He said life before meter taxis was insecure for three wheeler drivers. "Despite the drivers earning money, their consistency in earning was low, but with the meters fixed, their income was high and consistent."
Lalith said that the minimum profit for a day per person is Rs. 1500 and the collection is Rs. 2500. "The 1st kilometer is charged at Rs. 40 and thereafter for every one kilometer it is Rs.25. The waiting charges are Rs.90 per hour. He noted that the 22 members are struggling to supply the demand. "This is not our maximum productivity and we want more members. However we also understand that there is pressure on other three wheeler drivers to comply with meters in their taxis, because unless they try it out, they are not very confident about this system." He said that in the Motor Traffic Act, there are no regulations for three wheelers. "But the draft for this is there since 1999, the draft has been given more than four times to the Secretary of Ministry of Transport by the Commissioner Motor Traffic. The Western and Sabaragamuwa Provincial Councillors discussed it in 2002, but nothing came out of it. Despite three wheelers being in Sri Lanka for more than 28 years and over 300,000 three wheelers there is no administrative entity for these vehicles."
Lalith added that the 2007 November budget has a fuel subsidy for three wheelers , where it is said that the subsidy is given only, to meter taxis and that a concessionary payment scheme will be given to drivers who are interested to buy meters for their three wheelers.
"We need to make more awareness on this issue, especially on the part of the government," he added.