Bhutto braves threats, arrives in hometown
GAHRI KHUDA BAKSH, Pakistan, Saturday (AFP) - Benazir Bhutto arrived in her ancestral village today amid tight security in her first public trip in Pakistan since suicide bombers shattered her homecoming parade. Several thousand people clapped and chanted "Benazir" as the former premier arrived in a bullet-proof jeep at the village in a remote corner of southern Pakistan and immediately entered her family's mausoleum.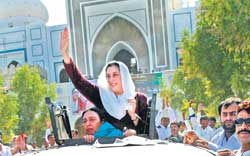 Former Pakistani prime minister Benazir Bhutto (C) waves to supporters outside her family mausoleum during her visit to the village of Gahri Khuda Baksh, 27 October 2007. Benazir Bhutto arrived in her ancestral village yesterday amid tight security in her first public trip in Pakistan since suicide bombers shattered her homecoming parade. AFP
Surrounded by security guards and party officials, she laid flower petals and offered prayers at the tomb of her father, the late prime minister Zulfiqar Ali Bhutto, an AFP correspondent said. Her father was usurped and later hanged in 1979 by a military dictator."I am happy and delighted to be visiting my home town," she earlier told reporters. "I will go everywhere despite security threats," Bhutto said wearing a white dress and traditional Sindhi shawl.
Bhutto has vowed to stay in Pakistan despite last week's blasts which killed 139 people during her mass street procession in Karachi to welcome her return after eight years in self-imposed exile. She has pledged to lead her party in upcoming general elections, which are seen as a key step to the nation's return to democracy after eights years of military rule.
Bhutto, the first female leader of an Islamic nation, has been based in her heavily guarded compound in Karachi since the October 18 blasts, which delayed the scheduled trip to the village. Several thousand people today waved flags in the colours of her party and cheered outside the massive mausoleum which was ringed by security guards.
"We are very excited our leader is back. God bless her. She is our hope, she is everything to us," supporter Abdul Karim shouted tearfully. The mausoleum is also the resting place of Benazir Bhutto's two brothers -- Shahnawaz, who was poisoned in southern France in 1987, and Murtaza, shot dead in Karachi in 1996.
She earlier flew into Sukkur city, about 600 kilometres (372 miles) north of Karachi, where supporters chanted "Long Live Bhutto" outside the airport. Bhutto was also showered with rose petals as she left for the hour-long drive to the village. Massive security preparations have surrounded the visit, with her party saying there were threats to target her wherever she goes.
"We have taken extensive security measures and deployed police to protect her and maintain order," senior local police officer Mazar Sheikh said. Bhutto has rarely stepped outside her Karachi home since the blasts, and even then only locally, emerging on Sunday to visit some of those injured in the blasts and the next day heading to the tomb of Pakistan's founder.
The attacks happened just hours after Bhutto set foot on Pakistani soil for the first time since 1999 and shattered her planned triumphant return to contest the elections set for early January. No group has claimed responsibility for the attacks, with Bhutto alleging a link to rogue elements in the establishment and a pro-Taliban militant denying his involvement.
She was cleared of graft charges by President Pervez Musharraf earlier this month, paving the way for her return and a possible power-sharing pact with the general, who seized power in a coup in 1999. The United States and Britain have been quietly pushing the pact as the best chance of fighting Islamic extremism gathering force in Pakistan and for political stability in the nation of 160 million people.
For her supporters in Pakistan, the attraction is simpler. "It will be a day of fulfilment for us. We have been waiting for this day.
She is our leader, the daughter of Zulfiqar Ali Bhutto," said Rasool, a labourer from Larkana who goes by one name. "We will welcome her from the core of our hearts," he added.