Seevali CC, Veyangoda CC and St Sylvester's on top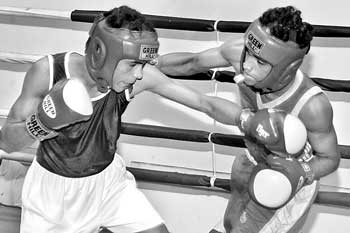 L.M. Suduwelikanda of Royal CBO 'A' in action against T.B.J.G. Bandara. Suduwelikanda won the Featherweight Under 57kgs bout. -Pic by Ranjith Perera.
Defending champions Seevali CC Ratnapura along with Veyangoda CC and St. Sylvester's came out on top at the Junior National Boxing Championship semi final bouts worked off at the Royal College boxing ring in Reid Avenue yesterday.
After the completion of the semi finals Seevali CC were leading with 17 points followed closely by Veyangoda 15 and St. Sylvester's one point behind. In fourth slot was Vidyarthana VVP Horana with 11 points.
Of the five bouts Seevali CC pugilists took part they were successful in seeing four of their boxers advance to the final while Veyangoda and St. Sylvester's having three boxers each.
Seevali boxers will contest in the Feather, Light, Light welter and Welter weight categories. But they are bound will face stiff opposition from their opponents who too will put in all their efforts if they are to prevent the defending champions from retaining the title.
The Featherweight Under 57kgs bout between Royal's L.M. Suduwelikanda and St. Sylvester's T.B.J.G. Bandara turned out to be an interesting tussle. The fight went to the full three rounds before Suduwelikanda overcame his opponent.
Apart from this most of the bouts did not go to the scheduled three rounds with some of them ending in being outscored and the referee stopping the bout in the first round or at the halfway stage.
Of the other clubs that participated, pugilists from Taxila CC who took to the sport recently fared better than what was expected. They succeeded in getting two boxers in to the finals.
Today the finals are scheduled to be held from 5.00 p.m. beginning with the women's category.