Toss vital in the third one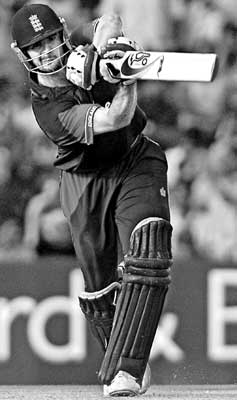 Owais Shah
After two ODI's between Sri Lanka and England exchanges have been even, with each team winning a game. On both occasions the winning margin was high. Sri Lanka winning the opening encounter by 119 runs and England reversing the result, scoring a 65 run win in the second.
At the end of game one it seemed that Sri Lanka might repeat their performance in England last year. When they swept the board 5-0 England seemed wanting in all departments. They did not bowl well enough and permitted Sri Lanka to race to 269 runs. It was not an easy pitch to play strokes on, but the Englishman, provided too many deliveries that could have been put away, and so Sri Lanka prospered.
When it came to their turn to bat, they did not seem to have the technique to play on that pitch. Neither were they able to read the variations used by the Sri Lankans. It was a dismal showing. It seemed as though they relied very heavily on Kevin Pieterson, Ian Bell and Paul Collingwood. Should all three or at least two of them not score big runs, then sizeable total seemed an impossible prospect.
The bowling is very inexperienced and it is not proper to expect big deeds from them consistently. With Andrew Flintoff absent through injury only James Anderson is an experienced bowler. They will need time and match experience to improve and mature.
Sri Lanka on the other hand looked solid and dependable. For the past twelve months their cricket has been good overall. Mahela Jayawardena led the way and top scored with 66 runs. Then there were contributions from the top order. Tharanga (40), Jayasuriya (41) Sangakkara (38) and Chamara Silva (33), all chipped in. It was the manner in which any team should approach their batting on such a surface.
England had a solid opening stand of 43 runs. That was it, from there on wickets fell at regular intervals. With the score on 102 for 6 wickets, the game was as good as lost. There was a stand of 42 runs for the seventh wicket between Bopara and Swann, but it was only a matter of time before the inevitable came to pass.
Sri Lanka thrived on the bowling of Dilhara Fernando and Farvez Mahroof. Fernando has been bowling well since the world cup. His rhythm, line and length has been very consistent and most importantly he rarely bowls a no ball now. Mahroof too is getting better with variations and his spell of 10-2-31-4 was magnificent.
In fact, the two of them continued with their impressive show on to the next game. Between them they bowled nineteen overs and picked up five wickets, giving away only seventy five runs. Batting first England did not seem to be in the game after thirty overs, with the local bowlers keeping the opposition batsmen pretty quiet.
One player played exceptionally well. That was Owais Shah who followed Mahela Jayawardena's footsteps. He was patient, moved his feet efficiently, to be balanced when hitting the ball and chose the correct delivery to execute his strokes. His was a well made innings of 82, with contributions of 42 from Collingwood and 34 from Swann.
Although it was not a big score, they defended. The England bowlers were inspired with the score on the board. When two wickets fell early (that of openers -- Tharanga and Jayasuriya), Anderson, Sidebottom and Board had their tails up. They sensed there was an opportunity and soon Sri Lanka were 38 for 4 wickets.
A partnership was required. Captain Jayawardena and Dilshan did some repair work and almost swung the game in the home teams' favour but Dilshan went just before the score reached three figures. He was playing a reckless drive in off spinner Swann's first over and when Jayawardena departed shortly after the writing was on the wall.
Mubarak and Fernando held on stubbornly at the end, but like in the previous game it was only a matter of time to the finish. There was a distinct advantage in batting first on both days. Scoring runs was a tiresome effort in the second innings, when the toss has a big advantage to the side winning it, the edge in the game is lost. Who will win the toss this afternoon?