Victims of tsunami, now victims of indifference
The recent fire at the tsunami camp at the corner of Maligawa Road and Anura Mawatha, in Ratmalana was a wake-up call to all - the government, the NGOs, and us, the average citizens. It is strange that this camp was situated on Maligawa Road and ironically surrounded by many maligawas.
One hundred and thirty families live in this camp, where 31 wooden shacks were burnt to the ground within three minutes. Thank God, there were no casualties. They say that this was caused by an electrical short. This is not surprising, when one sees the electrical wires crisscrossing the camp.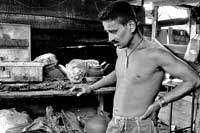 Moment of despair: All that he had built up destroyed within three minutes
Some of the people have been given an old large barn which had been used as a store room. My friend who took me to her quarters had to hold me by the hand as it was so dark, I could not see anything. The place is so overcrowded, each family is given a tiny space. They sleep, cook, study and entertain in this small space. One man has got a dove cote in one small space.
The families whose shacks were burnt down have been provided with tents, with a plastic sheet as a floor covering. A young pregnant mother who had everything ready to take with her to hospital had no time to take these things. She just grabbed her seven-year-old son and rushed out. This woman's husband is a casual labourer, but still he provided her with all that she needed to take to hospital. Their seven-year-old son lost all his books, school uniforms, etc.
There is another woman who had twins. As the children were weak they had been kept in hospital for three months and discharged the day before the fire. The same night one twin died. While the family was out burying their dead, their house was gutted. This family too has been given the regulation tent. When I visited the camp the surviving twin was lying on the floor, with not much protection, and many children running in and out of the tent.
Coming to the subject of children, there are many of them in this camp. They run around with no supervision. They use plastic sheets tied to strings as improvised kites. The children need guided supervision. There is a lot of substance abuse in these camps.
People look after their pigs and poultry better than we look after our own people who were caught up in the tsunami. Many have been given funds to purchase property, but no funds to build their houses with. When they go to the District Secretary, they are told that they have no funds to give them. Where have all the funds gone?
These people are crying out for help. They need their own homes, their privacy. They say they are willing to go even to Jaffna. That remark made me laugh to myself. The beautiful industrious Jaffna downgraded.
Aid is given, but there is no coordination. It is given as charity. These people do not need charity. They need to rebuild their own lives. The uprising of these children who are born in tsunami camps, who have been denied the right to live a decent life will be worse than the 2004 tsunami.