Geisha glamour
A 'Voyages' collection from Dilly's is usually well worth the wait, considering not just the classic elegance of the design and fabric of the clothes but also the meticulous research that goes into it. This time, beautifully complementing the 'Life of a Geisha' Voyages collection just out- is an exhibition of paintings that transports the viewer to ancient Japan.
Arthur Golden's book 'Memoirs of a Geisha' and the film by the same name laid bare the much misunderstood world of the geisha. Though oft portrayed in the West as sophisticated courtesans, they are in fact, skilled in the traditional arts of Japan. These beguilingly feminine icons with stylized make-up, elaborate kimonos and coquettish manners represented an almost mystical world of culture and artistry.
The artist behind the paintings now being exhibited at the Dilly's Distinct Store is Yoko Weerapura who came to Sri Lanka in the late '60s after her marriage to Sri Lankan hotelier Mahinda Weerapura whom she had met when he was working for the Hilton Hotel in Tokyo.
Brought up in a traditional and wealthy Japanese family and schooled in the arts- the Japanese dance 'Nihon Buyo', Ikebana and other rituals like the tea ceremony, Yoko, though had a will of her own. Influenced by an artist uncle who even in the grim post-war days would save up all his money to buy paints, she collected books on Japanese paintings. Marriage to Mahinda saw her voyaging to Sri Lanka to begin a new life.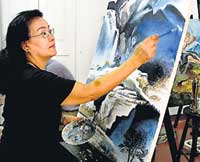 Yoko Weerapura
Sri Lanka was a culture shock, Yoko admits, but after she settled down she began promoting the country in Japan through broadcasting programmes and writing a column for a Japanese magazine.
Later she took to batik and her hand painted batik creations, distinctive in colour and zen simplicity, were so much sought after at the Oberoi Hotel's weekly fashion shows that she couldn't keep pace with the demand.
Today, guided by Dr. Sarath Chandrajeewa she has developed her own style and technique, influenced by the Japanese art of 'Ukiyo-e' (woodblock prints).
The result is quite mesmerizing. For shoppers at Dilly's this month, the Voyages collection apart, her paintings are an unexpected treat…a fascinating glimpse into the world of a geisha.