Enlightening Lankan readers on shared heritage with Pakistan
The Pakistani High Commission launched the Sinhala translation of the book "Buddhist Gandhara- History, Art and Architecture" by Ihsan H. Nadiem in Colombo last month. The book has been translated by M.S. Hussain, with an expert review by Prof. Anura Wickremasinghe of the Colombo University.
Author Ihasan Nadiem is a famous Pakistani archaeologist and museologist, who besides being curator of leading Pakistani museums, has spearheaded the prestigious Pakistan Institute of Archaeological Training and Research (PIATR) in Lahore. He has written around 20 books about the history, art, culture and heritage of all Pakistani provinces.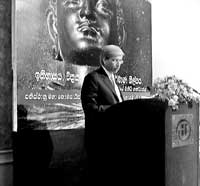 The Pakistani High Commissioner speaking at the launch
Addressing the book launch in Colombo the High Commissioner said they consider it important that Sri Lankans in general, and Buddhists in particular be aware of their rich heritage and shared bonds with the historical lands of Gandhara and Takashsila that are a treasured part of our past, and present.
Recalling the history of Gandhara in Pakistan he said, "Buddhism reigned as a culture, as a philosophy, and as superior teaching from the 6th Century BC to 6th Century AD in this region of Gandhara. Chandragupta Maurya was the founder of a great empire. And it was his son the Great Emperor Ashoka who not only converted to Buddhism but set up in Takashsila or what we call Taxila, now, the first great learning culture, the first and the most revered University on Buddhism. And just as the rising sun is adorned with its bright golden rays, that spread its light all around, so were the priests, and the monks, taught at this great centre of learning, who spread far and wide, reaching the remote recesses of China, Japan, Korea, South-East Asia and the entire contiguous regions with the message of Lord Buddha's Dhamma."
"The book is just another endeavour to spread a word of commonality, of shared past, of common bonds, of respect for our mutual heritage, of acceptance of diversity, of sensitizing ourselves to the dignity and respect that each culture, each civilization, each ethnicity and each religious entity deserves, since none exists in a vacuum, but is a continuity of a single march of humanity since inception. What we need is a reversion to our roots and fundamentals in each of our cultural, ethnic and religious divisions to re-discover the common message of hope, dignity and respect that draws out of the common essence of each religion and each deity," he added.
We need to only retrace our roots to rediscover our commonalities. Lord Buddha's message, epitomized in the vast reaches of the great Gandhara Valley of Pakistan can just be the beginning of one such journey. Let's travel this common road, he added.
To promote awareness about Buddhist relics in Pakistan, The Pakistan Government under the auspices of the Ministry of Tourism organizes Gandhara Week in Pakistan every year in which Buddhist monks, clergy, scholars and worshippers are invited from all over the world.
Last year, the Pakistan High Commission also launched the Sinhala translation of 'Gandhara Art in Pakistan' written by Dr. A.H. Dani and translated by Professor Emeritus J.B. Disanayaka. Pakistan is also hosting the World Buddhist Assembly in November 2007.