Roads in Colombo City in danger of collapse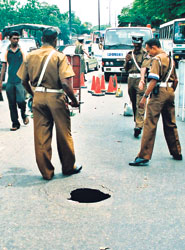 The opening at Borella junction
Due to the poor maintenance of roads in Colombo City in recent times, not only its population of about 1.5 million, but even the hundreds of thousands of people and the thousands of vehicles moving into the city daily are in serious danger due to the many roads reported to be coming apart.
Officials say the lack of communication between the Colombo Municipal Council and the Road Development Authority is one of the main reasons that roads are neglected by the authorities. Two years ago on October 15, the middle of Darley Road in Maradana caved in causing a mamoth crater.
But fortunately a bus carrying some 40 passengers narrowly escaped from landing inside it. On May 4, the road opposite Roxy Cinema at Wellawatte caved in with the resultant crater causing a massive traffic jam. The road near Devi Balika Vidyalaya, in Borella caved in on September 16 and again last Friday it was the road opposite the YMBA in Borella that caved in with warning bells of more such in taking place in the near future.
The CMC's Director (Engineering) Sewage said the City's roads are old and are unable to bear the weight of large volume of traffic Colombo caters to and its drainage system which is in urgent need of replacing is unable to carry the large quantity of wastewater.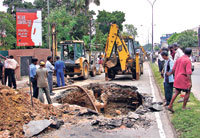 Crater near Devi Balika Vidiyalaya. Pix by Bertie Mendis
"Our underground drainage system is aged and now on the verge of collapsing at the slightest disturbance. The CMC is continuing to replace them with new pipes, but it's a slow process. We had to carry out a huge repair job on the Darley Road, Maradana sewage lines which are nearly 100 years old.
The Wellawatte sewage lines are more than 20 years old," he said. He said last Friday's crater was caused not because of the drainage lines but because of the storm water pipes giving way.
"The RDA is responsible for road maintaince and no repairs on the road network should be carried out unofficially without informing the RDA as a temporary repair job might later lead to a bigger damage," the director said.