A 'pitarata' jobs website from Tigo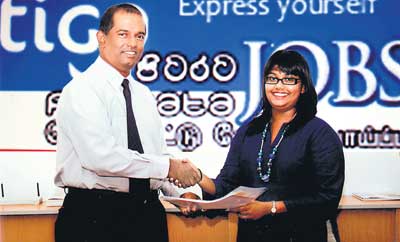 Seen here is Dumindra Ratnayaka – CEO Tigo and Michelle Pinto – CEO, Infotechs International [Pvt] Ltd.
Tigo, as part of its ever expanding portfolio of value added services has introduced Pitaratajobs.mobi site as a one-stop information site for Tigo subscribers who are seeking foreign employment.
By logging on to Pitaratajobs.mobi on their Tigo connection, Tigo subscribers can find a full range of information regarding vacancies, employment agencies, currency rates, contact details of foreign embassies, contact details of bureaus of foreign employment, the ministry of foreign affairs, the department of immigration and emigration and the ministry of labour relations and foreign employment, the company said.
Dumindra Ratnayaka, CEO of Tigo said Tigo has tied up with most of the reputable foreign job agencies in Sri Lanka in this venture. Tigo have signed up with Infotechs International (Pvt) Ltd, who are the creators of Pitaratajobs.mobi and are servicing the site exclusively for Tigo.