Major constraints hinder Lankan exports
* Delays in VAT refund
* Inefficiency of Colombo port
* Too many holidays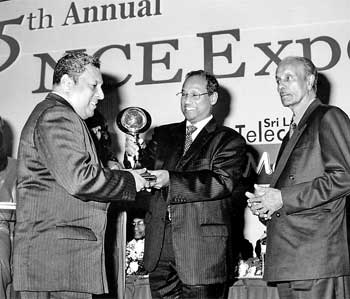 Ceylon Leather Products Ltd was awarded the Bronze Award for the Exporter of the year 2006 in the industry sector - Extra Large Category at the 15th Annual Export Award Ceremony. Here Sitendra Senaratne, Managing Director/CEO of the company receiving the award from Asoka De Silva, CEO of the People's Bank.
Delays in VAT refunds, inefficiency of the Colombo port operations and large number of holidays enjoyed by the labour force are the major constraints affecting the performances of the export industry in the country, a top industrialist says.
"With such major constraints we are also facing stiff competition from the growing Asian economies," noted Kulatunga Rajapakse, President of the National Chamber of Exporters (NCE) of Sri Lanka at the 15th Annual National Exports Awards ceremony in Colombo.
He said in an imports dependent developing country like Sri Lanka with a small domestic market and with limited raw materials resources, there is no alternative to exporting to achieve economies of scale in order to be able to penetrate and sustain international markets.
These markets are becoming competitive day by day reflecting the liberalized trade regime under the WTO frame work. "On the other hand our domestic production costs keep continuously rising due to reasons which are beyond the control of producers and exporters. The disproportionate high cost of energy and high cost of finance are just two of the many high cost centres. Sri Lanka is no longer a low labour cost country. Further although our workers are skilful, their productivity does not reflect their capabilities compared to workers in competitor countries, particularly in the South Asian Region," he added.
The NCE chief said entrepreneurs are unable to boost productivity through an incentive-based wage structure and hence it may be desirable to amend the Wages Board regulations to facilitate earnings to be productivity based.
He also noted that "in addition to the prevailing relatively poor infrastructure facilities, our exports have had to face severe setbacks due to restriction on night flights during a short period and also due to unwarranted work stoppages and security issues at the Colombo port."
Since June this year freight rates out of Colombo to Europe have increased by US$ 750 per 20 foot container, up by 100%. Unreasonable terminal handling charges is an additional burden. Even at these rates shippers find it difficult to obtain cargo space on ships playing from Far East to Europe.
The problem may aggravate in the coming months, he said, adding that this situation has arisen because Europe is ordering bigger volumes of goods from China reflecting strengthening of the euro against the dollar. On top of the above market conditions Sri Lankan exporters have been dealt a double blow by the withdrawal or curtailments of some shipping lines which have been hitherto using Colombo as a major port of call due to delays in berthing and security concerns. While Sri Lankan authorities are pondering on port improvements, India has gone ahead with heavy investment to build new ports and upgrading existing ports with FDI. The short term solution for this serious problem is to improve the efficiency of the Colombo port and upgrade it to a hub port level. This could be achieved to a great extent if the Colombo South Harbour (development) is fast tracked.
The other approach should be to position Colombo as a logistics market with facilities such as EDI, customs bonded warehousing, competitive port tariff, amending the out of date customs ordinance and facilitating international freight forwarding and logistics companies who operates multi country cargo consolidation facilities. On the long term Sri Lanka should work towards having her own national carrier to at least serve the South Asian and Middle Eastern ports, he said.
Rajapakse was also critical about the large number of holidays enjoyed by the labour force. "Sri Lanka is a country with a large number of holidays as a result of which the import export trade incurs heavy demurrages. One solution is to establish a custom clearing house manned 24 hours and 7 days.
Such a move will especially benefit factories located in the outstations. Presently Sunday is virtually a prohibitive working day for factories under present labour regulations. As we have to meet export deadlines this law has to be changed to have 7 working days so that the working week can be started from any day of the week."
Commenting on the VAT refunds, he said, "Delays in VAT refunds are another major constraint faced continuously by all exporters forcing them to borrow short term loans through overdraft facilities at exorbitant rates of interest for working capital. Various excuses are made for the delays in making refunds. One contention is that figures of export entries at the Sri Lanka customs do not tally with the claims lodged with the Inland Revenue department by exporters. One way out of this problem is for the Inland Revenue department to establish a unit at the Sri Lanka Customs to resolve discrepancies in export figures between the two institutions."
Loadstar stars at NCE awards ceremony
Loadstar (Pvt) Ltd, Sri Lanka's largest tyre exporter, won the Gold Award for being the most outstanding exporter of the year 2006, awarded by the National Chamber of Exporters of Sri Lanka (NCE). The company also bagged two more awards namely Gold Award for the sector wise most outstanding exporter, in the industry sector and also won the Gold Award for the extra large category.
Loadstar is a global market leader in solid rubber tyres commanding an estimated 25 percent market share; It has also entered the pneumatic tyre market for construction equipment.
The silver award was won by Colombo Dockyard Ltd. The Best Woman Exporters gold award was won by Selyn Exporters (Pvt) Ltd. while Serendib Exports won the silver award. The award for the best Sri Lankan Brand exporter was won by Imperial Tea Export (Pvt) Ltd.
JKH bags two Silver at NCE Export Awards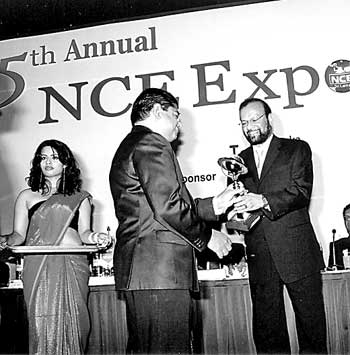 CEO Ceylon Cold Stores PLC and Sector Head CF+R Group JKH, Manilal de Silva receives the Silver Award at the NCE Export Awards ceremony. At extreme left is Manager Exports for Ceylon Cold Stores, Christy Fernando.
John Keells Holdings' Consumer Foods Sector bagged two Silver Awards at the recent NCE Export Awards 2006 event. The two Silver in the 'Agriculture Sector Value Added - Extra Large Category' went to Keells Food Products PLC and Ceylon Cold Stores PLC for reaching significant milestones in their respective business activities in the international arena.
JKH said the Keells Foods Brand of processed meats is considered a "Preferred Brand" by thousands of discerning consumers, and, almost all star class hotels and catering institutions in Sri Lanka.
Manager Exports for JKH Consumer Goods Ranjith Galagoda said, "While Keells Food Products has already tapped the major share of the local market potential, it has already begun looking towards a global presence in selected markets such as India, Dubai and the Maldives. Consolidating its strong market presence, KFP has also recorded a 63% growth in export sales during the Financial Year 2006/07."
Orange Electric wins export Silver
Orange Electric recently was presented the Silver Award in the extra large industrial export category at the National Chamber of Exporters-organised Exporters' awards.
Orange Electric currently exports electrical switches and sockets to Australia, Europe, Dubai, Malaysia, Singapore, Pakistan, Bangladesh, Nepal, Maldives, Cyprus, Ghana, and Nigeria. In 2007 the company plans to achieve US $5 million in exports and increase this to US$12 million by end 2008.