Gold for Baraka at Agribiz Awards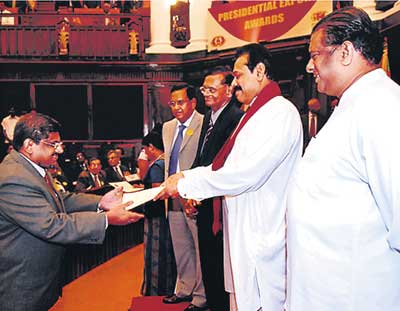 Picture shows Riza Bahardeen, Director/CEO receiving a Presidential award.
Bio Extracts, manufacturer of the popular Baraka range of natural products, recently won a Gold Award at the National Agri Business Awards 2007.
This company has won many other accolades in the past like the merit award in 2002 at the Sri Lanka Entrepreneur of the Year, silver at the National Exporters Awards 2006, Sri Lanka Business Excellence Awards 2006 and Achiever of Industrial Excellence Awards 2007,
An ISO 9001: 2000 certified company BioExtracts has penetrated over 30 countries around the world. Its markets span from US, Canada, Australia, Africa to EU and many Asian countries under the brand name Baraka. The base of their formulations is Black seed (Nigella Sativa) a trusted and time tested remedy for over thousands of years, combined with the rich SriLankan herbal heritage to provide a range of healthcare products for the control of Diabetes, Cholesterol, Hypertension Arthritis, Weight loss, etc. and a range of home remedy products, the company said.
It said the Baraka products have gone through toxicity and pharmacological studies and clinical trials. The products have been tested clinically and its efficacy has been proven by these experiments. Results of these studies have been presented locally and at international seminars and conferences the most recent being the first International Ayurveda research conference organized by the College of Ayurveda (UK) in April 2007 at Imperial College, South Kensington UK.
Riza Bahardeen, CEO of Bio Extracts, says the success of the company is mainly due to 'Quality and Efficacy' and its cornerstone -- R&D. ExpoLanka Group Director. Sattar Cassim said the organization has developed a strong association of trust and dependability amongst its international clientele and sees this as a strength to further leverage on its international expansion. Bio Extracts is a subsidiary of ExpoLanka Group and the products being distributed by ExpoLanka Pharmaceuticals (Pvt) Ltd.