Creatas muppets enact 'Panchathanthra'
By Susitha R. Fernando
World renowned inspiring stories that come in Vishnu Sharma's book, 'Panchathanthraya' transformed into muppets is now telecast every Sunday at 3.45 pm and Friday 5.05 pm on ITN channel. Produced by 'Creata', TV Productions, this novel series of programmes sponsored by the Bank of Ceylon is immensely popular among the children.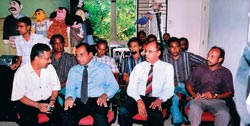 Palitha Luxman de Silva describes to General Manager of the Bank of Ceylon, B. A. C. Fernando how 'Panchathanthra' was made with muppet.
Giving life to lifeless muppets and narrating stories with them in natural settings while protecting their dramatic qualities is a painstaking endeavour. Yet the Creata team led by Palitha Luxman and 'Panchathantra' director Dhanuska Waidyasekera have successfully overcome the difficulties and completed nearly fifty programmes. By sponsoring the programme, the Bank of Ceylon has made valuable contributions promoting quality programmes and making them available to the children. Creata recently organised a demonstration of how the programmes is filmed and how the settings are prepared for audiences including journalists and senior bank officials with the General Manager, Bank of Ceylon, Mr. B. A. C. Fernando in attendance.
Describing the production of 'Panchathanthra' and muppet shows in general Palitha Luxman Perera said, "The art of muppets is not alien to us as we have a long history puppetry in Ambalangoda and other parts of the country." There are five kinds of puppets like stick muppet, full-body muppets, shadow muppets, glow muppets and hand muppets and usually most of them are enacted in studios. "But we wanted to go out to natural locations in order to maintain the authenticity of our stories," says Palitha. For this, the programme director Dhanuska Waidyasekara had to face a multiplicity of challenges.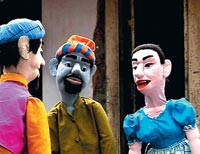 Giving life to muppets and giving voice to them on location, concealing their muppeteers from the camera was a complex procedure. Some of the muppet characters are staged in water and on trees forcing their masters to be in the water and on trees for hours. "Our productions are on par with the international programmes and by competing the foreign muppet programmes we were able to popularise 'Panchathanthra among the children," Dhanuska described.
'Panchathanthra' has been rated as one of the top programmes telecast on ITN and it is considered one of informal education programmes. Bank of Ceylon should be commendable for their corporate social responsibility by encouraging locally produced children's programmes. 'Creata' has produced nearly 50 stories of 'Panchathanthra'.
Creata crew
Camera- Thusitha Weerasinghe
Assistant cameramen-
Indika Sandaruwan
Script- Anura de Seneviratne.
Music-
Sanjeewa Paranagama and Premakumara Nihal
Sound recordist-
Thiwanka Udara
Lighting-
Jayampathi Pataliya
Artiste-
Premakumara Dissanayake, Nihal P. Vithana and Nimal Rohitha.