Milton returns with 'Tharaka Mal'
'Maduwanthi' and 'Bithusithuwam' famed director Milton Jayawardena has returned to filmmaking with 'Tharaka Mal', which starts its run from May 30 on the EAP Circuit cinemas.
Produced by Soma Edirisinghe for EAP Films, 'Tharaka Mal' introduces a number of new faces to the cinema. Roshan Ranawana, Anarkalli Akarsha, Pubudu Chathuranga, Muthu Tharanga, Nalin Pradeep Uduwela, Pradeep Senanayake, Nimal Anthony, Hyacinth Wijeyratne with teledrama star Nadeesha Hemamali making her debut to cinema with 'Tharaka Mal'.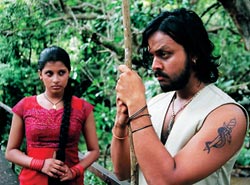 A love story set in an upcountry tea estate depicts the pathetic story of Robert Meewella, wealthy planter. After his wife left, leaving with him a daughter, Robert takes up the challenge of bringing up the child. Having failed to give mother's love, Parwathi a poor young tea plucker in his own estate, volunteers assistance. Impressed by her generosity, Robert decides to marry her and he informs this to her parents. For the poor parent this was unbelievable. But Parwathi who is awaiting to get married to Kumaran a young man in the tea estate refuses Robert's proposal. But the social status and poverty compel her not to go against her landlord. They get married without publicity and Robert keeps it a secret from his well-to-do relatives. Parwathi gives birth to a girl, Madhawi.
But everything changed when Robert's sister, Agnes returns from abroad. She forces Robert to divorce Parwathi. Perturbed by this Parwathi commits suicide. Little Madhawi who loses her mother and father's love is taken cared of by Kumaran.
Madhawi has grown up to be a charming and talkative girl. Parthipan, an aggressive yet honest young man in the area is interested in her. He is ready to do anything to win her heart.
It was at this stage Mahasen, Robert's nephew returns to the estate. He meets his cousin sister, Suramya (Robert's daughter from his first marriage). The elders decide that the two young couple would make a good match and make arrangements to get them married. But Mahasen is not interested in this. Mahasen also meets Madhawi in the estate.
When Mahasen with his father returns to Colombo and on their way a man is knocked down, and though Mahasen wants to stop the vehicle, his father forces him to continue the journey ignoring the injured man. Though escaping the law, Mahasen is disturbed by his conscience and goes in search of the man whom he knocked down. And this visit brings a dramatic twist to 'Tharaka Mal'.
In the technical crew young music director Charudaththa has written the score with his novel melodies. Camera handled by Ayeshmantha Hettiarachchi to the screenplay of K. D. Nicholas, Milton Jayawardena made the film.