Ecotourism in Sri Lanka
Vision
'To make Sri Lanka one of the most sought after ecotourism destinations in the world and to build a professional ecotourism network, which serves as a model for ecotourism in the Asia and Pacific Regions'
Mission
'Ecotourism in Sri Lanka to be used as a tool to conserve the environment, to assure maximum economic benefits to the host community, preserve age-old cultural heritage, provide in-depth information about Sri Lanka and to satisfy the needs of both national and international Ecotourists visiting genuine eco sites in the island'
Global Ecotourism Conference (GEC) 2007' Organized by the International Ecotourism Society (TIES), Ecotourism Norway, and the United Nations Environment Programme (UNEP) was held in Oslo, Norway last week.
Palitha Gurusinghe, the President of Sri Lanka Ecotourism Foundation (SLEF) has been invited by The International Eco tourism Society (TIES) to represent Sri Lanka at this Global Ecotourism Conference.
He is the founder of SLEF in 1998. Palitha is also the General Secretary of Association of Small and Medium Enterprises in Tourism Sri Lanka (ASMET).
He is an International Presenter and Keynote Speaker in Ecotourism. He has extensively contributed on the theme 'Community Based Ecotourism' to many international ecotourism forums held in Sri Lanka, South and South East Asia, Scandinavian countries, Australia and Indo-China, as a Speaker and Moderator.
The Global Ecotourism Conference 2007 is the first major international conference on ecotourism since the United Nations' International Year of Ecotourism in 2002. This historic event brought together ecotourism associations, professionals, practitioners, organizations and governments with dedicated interest in learning from past achievements, comprehending global challenges, and identifying solutions.
GEC 2007 built a network from around the globe, along with key industry and government leaders and ecotourism practitioners, to discuss common issues and challenges, and to strengthen the collective voice of the ecotourism community worldwide.
'This was historic occasion which highlighted the importance of strengthening global networks, and resources and knowledge, so that the industry and a community can unify efforts in conservation and sustainable development globally' Palitha said.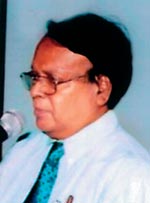 Palitha Gurusinghe
GEC 2007 Co-hosted by UNESCO, the United Nations Foundation, and Counterpart International, and supported by key international organizations such as IUCN, Environmental Defense, Rainforest Alliance, National Geographic Society, PAN Parks Foundation and WWF.
A number of leading experts from various parts of the world touched critical issues, challenges and opportunities in the field of ecotourism through workshops and plenary sessions. The workshops are crafted around the main themes of local sustainable development, nature conservation, communication and branding, and current trends.
The Sri Lanka Ecotourism Foundation (SLEF) is the pioneer "Ecotourism Society" in Sri Lanka, and was established in 1998. It is registered as a non-profit Tourism NGO at the Ministry of Tourism, Sri Lanka and Central Environmental Authority (CEA), comes under the purview of Ministry of Environmental and Natural Resources, Sri Lanka. The primary focus of Sri Lanka Ecotourism Foundation is the social and economic development of rural communities in Sri Lanka, through Community Based Ecotourism Enterprises (CBEs). From its inception, SLEF has worked hard to introduce and implement poverty alleviation programs through ecotourism. To realize this objective, SLEF provides support services and motivates local communities to participate in Community Based Ecotourism and environmental conservation projects.