Triad, Leo Burnett & Grants winners but scams take the honours
"There are so many scam ads going around; they don't build the brand.
That is cheating. It might build some young ad man's career for six weeks but it doesn't do anything for the client. I am in business for the client, not for the awards. You might win an award for a scam ad, but that is the end of the story." - Trevor Beattie, Founding Partner, Beattie McGuinness Bungay.
"To scam or not to scam…that is the question" resonating throughout the local advertising industry in the aftermath of last week's 'The Chillies 2007', which saw many of the 'advertising giants' take home multiple awards for scam ads.
The atmosphere was as always electric! The ad world had come together once more to reap the fruits of their labour! All decked up in their "glad rags", in various stages of intoxication; jubilant victors and noble losers alike. There was much anticipation and mirth in the air! 'The Chillies 2007' was officially underway.
Triad adjudged No.1 again at The Chillies
Triad, creating history in the advertising industry, took the top slot at The Chillies 2007 for the 2nd consecutive year.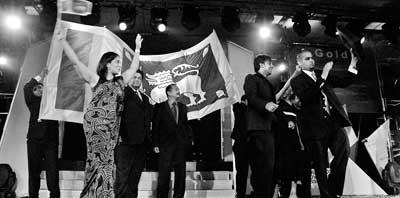 Triad victorious
In an unprecedented move, the Triad Team shared its victory with "friendly, like minded agencies", whose quest is to make a mark as one nation, in the global creative advertising arena, the agency said in a statement.
Fourteen years in the business, Triad was started by Dilith Jayaweera and Varuni Amunugama Fernando, who are from a legal background. Today the company is powered by over 80 people whose homegrown talents have been strategically sharpened with global learning and exposure.
Creating a national platform "Sri Lanka Can", Triad has succeeded in giving pride and value to Sri Lankan entrepreneurship while "walking the talk". The strength of the Triad Team is the genuineness of each member and their commitment to fulfill a national cause that transcends narrow individual gains.
At The Chillies 2007, Triad won 2 Golds out of the 3 awarded. One was in the Print category for Volvo and the second was in the Ambient category for the Ministry of Defence. "Triad was very happy to win across the board with a haul of 13 awards for their clients Swedish Trading Audio Visual, Hutch, Paracetol, People's Bank, Alumex and Homerun Pas," the company said. Amunugama, commenting on their outstanding victory, said that "it was the sheer team spirit and the "never say die" attitude of the Triad Team which made this victory possible. She also took pride in the fact that when challenged, Triad performs at its best and this year is a perfect example of how playing by the rules and believing in the greater good of the industry as opposed to petty agency gains, have paid great dividends. This is about taking Sri Lanka to the world and the Triad Team is fully pumped up, to do just that".
Jayaweera expressed his views that "The Chillies is about camaraderie, friendship and solidarity. Through many grueling months, so many agencies came together to prepare, plan and put together The Chillies week, culminating in the gala awards show. It was really heartening to see the unity and friendship amongst most of the agencies who gave their utmost for the betterment of the industry".
He also felt that "Triad's consistent attainment of the highest creative standards by winning the 2nd highest no. of Golds at SLIM Awards in 2005, winning the highest no. of Golds at The Chillies in 2006 and now winning the highest no. of Golds at The Chillies in 2007, is a recognition of the agency's dynamic creative potency, which is the core offering of our industry.

The entertainment for the night was particularly impressive! What with the calibre of artists such as Neela Wickramasinghe, Bathiya and Santhush, Ashanthi and Randhir, Natasha Ratnayake, Kamal Addararachchi and Nalin Perera, The Revelations and a grand finale by the fusion music band 'Shakthi', you just couldn't go wrong!
But scam ads took the honours or rather was the focus. "Scam ads are advertising/creative material developed by an agency either on a whim or at best as an initiative, executed and scheduled at their expense with the connivance of the client, or in the worst case, at the client's expense, even though it's not required from a marketing point of view. They are created with the primary objective of obtaining an award or competing at ad shows, rather than meeting marketing goals. Although sometimes they do," explained the Chief Executive Officer (CEO)/ Managing Director (MD) of Minds FCB and President of the Accredited Advertising Agencies Association (Four A's) - Rohan Rajaratnam.
"Scam advertising is a global phenomenon and takes place in a number of award shows worldwide. It can be likened to a fashion show where even though you don't wear half the clothes you see at the show, it's an exhibition of the scope and capabilities of the designer/ad agency where you can witness the extent of their true potential," he added. Scam work also gives 'creatives' a good opportunity to flex their creative muscles, he added.
"However, advertising is not scam. It is yet another profession like medicine or the armed forces, where you should be rewarded for the work you do. For instance, you give a medal of honour to a soldier for bravery, not to one who's never gone to war, right? Similarly, if this sort of trend of giving precedence to scam ads is taken to greater lengths, you won't want to be presiding over an awards show that focuses only on scam," he said.
"We obviously need to look into this issue and see how best we can work things out as it's not very good for the industry if clients turn around and say agencies are only good at scam. This is a possible outcome of continuous scam advertising," he added.
"Therefore firstly, we could look into appointing a panel to define, control and evaluate scam work. Then, possibly introduce a specific category for scam, rather than leave it open as what exists now.
Leo Burnett – toast of the town
No matter who talks about this year's Sri Lankan Advertising Awards - The Chillies 2007 - the star of the evening is undoubtedly Leo Burnett Solutions Inc (LBSI), the agency claimed. With a staggering 26 metals - the most won by any agency at the Chillies 2007 – it was undoubtedly a night when Leo Burnett sizzled hotter than the hottest chillies.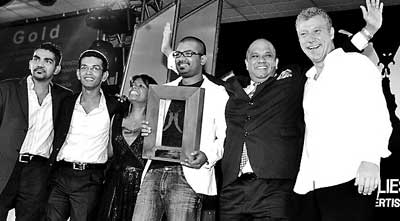 Leo
This year, the young 8-year-old ad agency walked away as the most awarded agency, snapping up 26 medals out of 72 given out that night, almost tripling its metal win as compared to 2006. The only gold awarded in TV out of 3 overall Golds awarded this year was also bagged by Leo Burnett, a more remarkable feat considering that LBSI was the only agency to win a TV gold last year also.
The agency won across all categories - with 7 silver and 18 bronze awards, with significant improvements in radio, integrated and print ads over last year's performance.
At the helm of the agency's creative success, Executive Creative Director Trevor Kennedy, hinted at the agency's winning formula: "We have endeavoured to raise the bar continually by pushing for the highest creative standards that can be achieved for every piece of work that we do."
Discussing their success, Managing Director Ranil de Silva attributed it to investments in training, strategic planning and networking. "One of our key investments has been in the recruitment of Trevor Kennedy, a reputed creative professional with extensive experience in the global ad industry, who has been brought onboard to spearhead the creative team at Leo Burnett," de Silva pointed out. He said the need for crafting impeccable ads required thinking out of the box. Endless brainstorming sessions and reviews and re-reviews of work kept the creative juices flowing. The television commercial for which Leo Burnett won the gold - entitled 'Slaps' - for client Good Knight was a departure from the traditional. With a small budget, no musical score, no conversation. Essentially it was a silent film."Another example of this type of execution was the print and TV ads for the Information Communications Technology Agency's Government Information Centre (ICTA/GIC) which was also very simple but extremely compelling.
Or else, there is the possibility of eliminating scam ads altogether but that too won't be productive as a certain degree of scam too is necessary for the industry to develop and grow," he added. The panel should jointly take a call on what should and should not be introduced to this profession.
President of Spirit & Soul, Adrian Ferdinands said sadly at this year's 'Chillies' most of the ads that won seemed to be scam ads, adding that scam work has both its positives and negatives. Whilst creating scam ads elevate the industry's level of creativity and allows an agency to do work meeting with international standards, it can sometimes tend to be an unrealistic reflection of the advertisements produced by a particular agency, he elaborated.
"Scam ads are not created with the best interests of the brand in mind. It doesn't benefit the brand. Also, since not all companies can afford to produce scam ads, as the cost of production and execution of a majority of these ads are borne by the ad agency itself, only the big ad agencies have the resources and funds to produce scam work. Thus making it quite an unequal playing field," said Ferdinands.
Technically scam ads should not be running without the client's prior approval or knowledge, as agencies shouldn't arbitrarily decide to change a brand's image to suit their vested interests, as such an ad could have either a positive or negative impact on the brand, he said. If at all, scam work, should be brought in as a separate category at 'The Chillies' so as to display that the industry can in fact produce a decent advertisement. "However, if large clients were bolder and more risk taking, there would be no need for scam ads, especially since consumers nowadays are much more discerning than we think," he concluded.
Michael Holsinger, the Chief Operations Officer (COO) of Lowe LDB gave his insight into scam ads, "Even scam ads need to meet certain requirements in order to win awards; three in particular. There must be a legitimate body behind the work, the submitted work must have run within the stipulated time period (generally over the past year) and must have a relevant message." "If the ad (be it scam or not) meets these requirements, I don't see why it should be disqualified," he added. Because where do you draw the line then, he questions.
"If Ferrari or Toyota can make a car specifically to win the 'Grand Prix', all the best to ad agencies that make ads to win awards," said Holsinger. "Judges generally can tell the difference between a scam and a non-scam ad. You can't just create an ad off the top of your head, it has to be in adherence to the permitted framework/criteria," he said. "Scam ads are allowed not just in Sri Lanka but, around the world and rightly so, especially if we want to be recognised in the international arena as a 'hub of great ideas', where people from around the world would want to bring their work to us," he added.
"Scam ads can easily win awards anywhere in the world and some of the best works of creativity can be recognised via scam ads," says Jerome L. De Silva – Chief Operations Officer (COO) – Masters DDB. Unfortunately though, "most scam ads are never seen. They're either aired very late at night or in some remote magazine. Also, especially in countries like Sri Lanka, most scam ads will not actually sell the product. That's why most clients don't go along with most scam ads," he adds. Also, as most of these ads are produced on the respective ad agency's account, most smaller companies will never be able to compete with them and thus, never win awards, he said.
The Chairman of the jury itself was reported to have said that advertisers shouldn't lose sight of their primary goal, which is to do the best for the brand. "Whilst ads must be creative, there must also be some sort of prerequisite that even scam ads should have some sort of effectiveness endorsement by the client, giving facts and figures. Ads must not be creative for creativity's sake alone; they must actually sell the product. After all that is what's expected of you in the industry," noted De Silva.
BBDO as a policy doesn't produce scam ads, emphasises Kunal Roy – Strategic Planning and Creative Director of BBDO Swara. "We don't believe in utilizing clients money or even if it's on the agencies own steam, merely to pat ourselves on the back," added Roy. Doing creative work purely to win awards, is a disrespect to an industry which is already diminishing in respect.
"Such ads winning awards also indicate to clients that the great ads are scam work and the boring mundane ones are what work in the market. That doesn't send out a very positive vibe of the industry," he added. If an advertisement is not ad-centric, where the brand proposition is taken forward, then ideally it's not an ad. There's a huge difference between pro-active and scam work, he said adding, that when it comes to pro-active work, creatives can come up with a brilliant idea which is also strategically right and try and sell it to the client, 'if we truly believe it'll benefit the brand.'
"Creativity and effectiveness are not mutually exclusive. You should be creative to be more effective; so you can stimulate the interest of the consumers, keep them engrossed and thus compel them to purchase the product," he elaborated. "Why do scam at all? Nobody's paying me to do it. Creativity in the absence of effectiveness is no point," he stressed.