Royal down Ananda but fail to impress
The Royalists were kept in check by a stout hearted Ananda defence and managed to eke out a 19-0 win in the A Division inter-school rugby game at the Royal College Sports Complex yesterday. Royal led 14-0 at the breather and their points were made up of two goals and a try.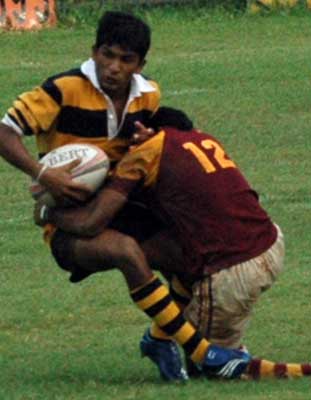 A Royal player is pinned down by a Anandian defender - Pic by Saman Kariyawasam
For long periods the Royalists struggled to find their form against an alert Ananda defence who kept the Royal outsides in check to the extent that they resembled as if they were running in shackles.
Ananda dominated play in the first five minutes and remained pinned on Royal territory but failed to score due to lack of finish.
The steady shower which enveloped the ground early in the first half too added to Royal's misery.
Royal came into the game with wins over Wesley and Thurstan and they were never in doubt to defeating the Anandians yesterday. Yet the manner in which they won did not impress many.
In the 12th minute Royal's fly half Naren Dason ran like a gazelle to score under the posts putting the touches to a three-quarter move. Sailendra Chandrasekera had his kicking boots on to make the simple conversion and give Royal a 7-0 lead.
Six minutes later Vinod Malwatte, son of former Royal and Army rugby player Haren Malwatte, touched down under the posts and Shailendra Chandrasekera added the extra points to put Royal further ahead at 14-0.
Royal struggled for long moments against the dour Ananda defence and the wet ball in the second session.
Ultimately Royal prop forward Nithra Senanayake broke the deadlock when he barged through the defence to score mid left for an unconverted try.
Next week Royal, coached by Chandana Abeygunewardena and Nizam Jamaldeen. take on Kingswood in what could be a scorcher.
Referee Priyantha Navaratne