Your baby: Big or small, the gene tells it all
A Sri Lankan doctor's research identifies a gene linked to the weight of babies at birth.
Why are some babies born small and others big? Do the genes of a baby's mother have any role to play in this scheme of things?
The mother's genes, in fact, do play a major role. Ground-breaking research carried out in Sri Lanka has resulted in the discovery of one of the genes which determines the weight of babies at birth.
This research may have a major impact on the lives of people in the future, in view of the fact that people born with low weight at birth are known to be predisposed to hypertension, cardiovascular disease and diabetes in adult life.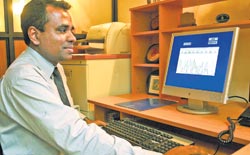 Dr. Vajira H.W. Dissanayake Pix by M.A. Pushpa Kumara
And behind long hours of walking the wards of both Castle Street Hospital and De Soysa Maternity Hospital to recruit women for his study and analyzing DNA samples in the molecular genetics laboratory is Dr. Vajira H.W. Dissanayake, Senior Lecturer, at the Human Genetics Unit of the Faculty of Medicine, Colombo University.
"Yes, it took up my whole day," 38-year-old Dr. Dissanayake, who got into medicine quite by chance, acknowledges softly. ("I was very good in maths, but always had the impression that engineering was a career meant for constructing buildings, that did not appeal to me, and that's how I ended up in medicine.")
The crucial research would run into days, weeks, months and years, for just recruiting suitable women for the study alone took all of the time from August 2001 to January 2003 followed by another one and a half years of work in the laboratory.
Dr. Dissanayake was the principal investigator of the team which made this discovery and worked closely with veterans Professor Rohan W. Jayasekara, who set up the Human Genetics Unit single-handedly and is presently its Founder Director, and Professor Harsha Seneviratne, Professor of Obstetrics and Gynaecology and expert on in-vitro fertilization.
All the hard work has not been in vain because it has been acclaimed in the prestigious journal 'Human Molecular Reproduction' published by the European Society of Human Reproduction and Embryology and the Oxford University Press.
Keeping to strict ethical guidelines, the study was done on 171 Sinhalese women who delivered normal babies following an uncomplicated first pregnancy. "Genetic changes in the gene called the Epidermal Growth Factor (EGF) gene of pregnant women are associated with the weight of their babies at birth. Some of them make the babies small and others make the babies big," says Dr. Dissanayake explaining the nitty-gritty of the research.
Why did Dr. Dissanayake pick on the EGF gene, out of thousands of genes?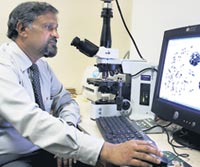 Prof. Rohan W. Jayasekara
It was a good gene to look at because research carried out by other groups previously indicated that the EGF gene plays a major role in the formation of the placenta.
Once a link between the EGF gene and birth weight was established in Sinhalese women, the same study was repeated on two groups of white Western European women in Britain by a team of Nottingham University researchers led by Dr. Linda Morgan, Senior Lecturer at the School of Molecular Medical Sciences. They arrived at the same findings in both groups of women in Britain, giving further strength to the discovery made on Sinhalese women.
Adds Prof. Jayasekara, "This breakthrough was due to hard, no-nonsense hypothesis-driven bench work, as opposed to most other research done in Sri Lanka based on questionnaires and audits."

Prof. Harsha Seneviratne
What next?
More research, stresses Dr. Dissanayake.
The next challenge, of course, would be to find the link between the genetic changes in the EGF gene, which make a person to be small at birth and the development of common disorders such as diabetes, cardiovascular disease and hypertension when they grow up.
Once this is done it would be possible to test people for genetic changes in the EGF gene and predict whether they would develop these conditions when they grow older. In addition, it may also be possible to develop new treatments to correct the defective EGF protein produced by the changes in the EGF gene or reduce the 'bad' health effects brought about by it, adds Dr. Dissanayake.