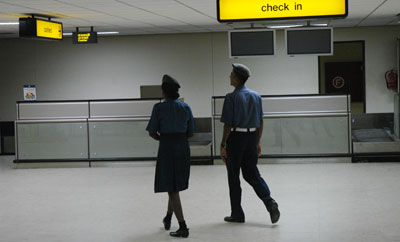 Counters closed at the BIA
Darkness looms with BIA night-time closure
Hoteliers and cab services say new security measures at the airport will further affect their businesses
The suspension of night flights and the closure of the Katunayake Internnational Airport from 10. 30 p.m. to 4. 30 a.m. have landed a double blow on the already limping tourism industry with hoteliers and cab services complaining about the drop in business. They said just the news about the night time closure – which came into operation on Thursday– had caused a fear psychosis among would-be foreign tourists to Sri Lanka.
Some of the worst hit by this current security measure are those hotels in Negombo which were depending on transit passengers to keep their business on course, following a drop in business in the past months due to the general security situation. But the night closure of the airport will see a drastic drop in these transit passengers too, hoteliers say.
Negombo Hoteliers Association president and Goldi Sands Hotel General Manager Expedit Croos said several main hotels in Negombo depended on transit passengers to keep them afloat, but with the new regulation they were gradually losing their arrivals and occupancy forecasts for the coming months were gloomy. He said about 3,000 people in Negombo depended on tourism and in the coming months hotels may be forced to retrench staff if the situation continues.
He said 25 tourists had cancelled bookings to his hotel in the past few weeks. He also said foreigners who come to Sri Lanka from far off destinations may opt for other destinations because they wouldn't like to languish for long hours at transit points due to restricted travel times to travel to Sri Lanka.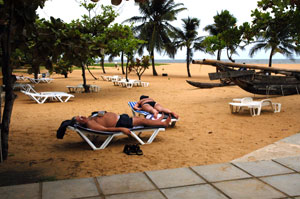 A few tourists enjoying the sun at Browns Beach hotel
"The occupancy rate in main hotels such as Browns Beach, Golden Star Beach, and Goldi Sands will go down drastically in the coming months and beach vendors and cab service operators will also lose business if things continued like this," he said. Browns Beach Hotel's Front Office Manager Nalaka Weerasekara had a similar tale of woe and complained about the drop in tourist arrivals and transit passengers as most of them came to Sri Lanka at night time.
He also said that the news of the closure of the airport has given tourists a confirmation of a fear that it is not at all safe to visit Sri Lanka presently. Ayurvedic Pavilions General Manager Rookamanie Fernando however feels that things will improve soon. She added that the lack of effective promotions and proper planning to handle crisis situations has cost the country a lot.
On another front, a beach vendor Daisy Fernando who has been selling clothes to tourists on the beaches of Negombo for 13 years said her business had dropped and for the past three consecutive days she had sold only a few clothes as there were only a few tourists on the beach.
A similar fate has befallen a large number of cab service operators especially those who ply between the airport and hotels. They said the night time closure will further hit their business which was running low with tourist arrivals dropping due to the security situation. Maxi Fernando, manager of Abans Tours at the airport said though they have business at daytime the lack of night hires will be a big blow to them.
Buddhika Cabs Service which operates an airport service said their business too had slumped during the past few weeks. S.C. Sylvester secretary of the Cab Drivers Association in Negombo which has more than 120 cabs operating in 14 hotels said there has been a drop in their business too.