A truly unforgettable experience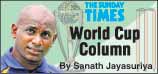 Eight weeks of ecstasy and one day of agony. That was our fate at the 2007 World Cup and looking back on that soggy Saturday it does appear that the Weather Gods and Dame Fortune secretly conspired to ensure that Sri Lanka's chances of emerging world champions were kept to a bare minimum.
When the team went out to the Kensington Oval on Saturday and saw the prospects of rain we knew that the toss would be crucial. Mahela had not been very lucky with the toss during the entire tournament and the finals were not an exception-and the Australian captain Ricky Ponting promptly and correctly chose to bat.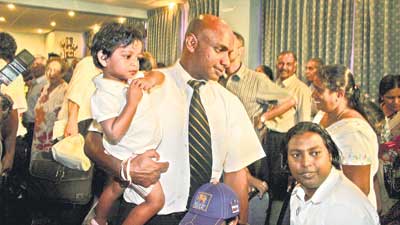 Now I can have a small break off the field with my family.
- Pic by M.A. Pushpa Kumara
If we were to have any chance of containing the strong Australian batting line-up in an innings curtailed to 38 overs, it depended on getting early breakthroughs but it was not to be. Vaasey who usually finds swing under most conditions found that there was none.
It surprised us all, but the conditions were very hot and humid with absolutely no wind to assist the pace bowlers. The ball was coming straight through and Hayden and Gilchrist, not being handicapped by swing, were having the partnership of their life.We did manage to contain the Aussies to 46 in the first ten overs and given the conditions, that was an indication of how hard Vaasey and Mali tried. But thereafter the floodgates opened as Gilchrist took control.
That kind of form
Gilchrist's innings though, was something special. He was dispatching good deliveries to the boundary with disdainful ease and when a batsman is in that kind of form, there is little that bowlers or an opposing captain can do.
To his credit, Gilchrist who was struggling for form throughout the tournament chose the most important game --- the finals- to come good. In the final analysis, he made 149 off 104 deliveries ---45 runs in excess of a run-a-ball-in a game where we too maintained a run-a-ball scoring rate but still lost by 53 runs. Therefore, Gilchrist made all the difference.
Nevertheless, when we began our innings we did think that 281 runs at 7.4 runs an over was still a plausible target. We knew we had to maintain that run rate for a lesser number of overs because of the shortened game and we had confidence, given the depth in our own batting line up.
We did lose Tharanga early but Sanga and I were able to keep the scoreboard moving. Sanga in particular unleashed a series of boundaries off McGrath in one over and the chase was on. The Australian bowlers including McGrath and Tait were under pressure and we knew we had the Aussies worried despite their huge score.
Sanga did perish with the score at 123 but Mahela was able to get into his stride right away and we thought we were still on course. That was when there was a drizzle and the conditions began to change for the worse. Suddenly, because of the clay-like surface of the wicket, the bounce was more difficult to negotiate and, with overcast conditions, the ball was darting around much more unevenly.
We also received a message from the dressing room conveying that heavy rain was expected soon and asking us to try and increase the run rate. By then, we had passed the 20-over mark and we knew that if the match was suddenly called off due to rain, we would lose if we were found to be behind the required Duckworth-Lewis score.
Therefore, we had no choice, really. We had to try and accelerate the scoring in conditions not ideal for doing so or risk losing the game anyway. I think my dismissal to Michael Clarke was brought about by that because, seeing the gathering clouds, I was all out to try and raise the scoring rate and believed that Clarke would be a good bowler to target. Unfortunately, I missed and he hit.Mahela's dismissal soon afterwards effectively ended the run chase but it did not end the confusion that had engulfed the game. The match was apparently 'called off' at the end of 33 overs when our batsmen at the time, Vaasey and Mali, accepted the Umpires' offer of bad light.
Celebrations
The Australians began celebrating but then the umpires, Steve Bucknor and Aleem Dar came up to us and informed the teams that for the game to officially end, another three overs had to be bowled for which we would have had to return on Sunday!
Initially Ponting thought that Dar was playing a joke on him. Then, when he realised it was not at all a joke, the Australians were aghast-but also equally helpless. What it meant was that everybody had to return to the ground the next morning and play out three overs --- just in case we scored 62 runs in those three overs --- before Australia could be handed over the World Cup!
We then quickly discussed the issue. The team agreed that the result was not in any doubt anymore and that it would serve absolutely no purpose to drag the game on until the next day-it would achieve nothing except that the Aussies would have to wait a few hours more to open their bottles of champagne.
Mahela spoke to Ponting and agreed to play out the remaining three overs provided he agreed to bowl his slower bowlers. Ponting was relieved to hear that and really appreciated our gesture.
And there the match ended-in near darkness and absolute chaos. It was a thoroughly disappointing end to what was otherwise a very successful tournament for us where we were able to challenge the best teams in the world and win consistently.
It must be said that this was a World Cup final, played every four years. It is an event the entire cricketing world looks forward to as the greatest prize in the game. It is also a tournament that ran for nearly two months.
Moreover, there was a reserve day allocated for just this kind of situation. So, if that day is not used to ensure that both teams play their 50 overs, what earthly purpose does it serve? Why are there such severe restrictions on how and when that day could be utilised? Why cannot that be left at the discretion of the umpires and the match referee?
If that had happened, I am sure, this game would have gone to the wire. These are issues the authorities managing cricket would have to look at seriously before the next World Cup.
And just for the record the following day, Sunday, which we spent in Barbados, was a perfect day. It was bathed in sunshine throughout, with no rain whatsoever and with perfect conditions for a good game of cricket leaving us wondering on what might have been had the match officials decided otherwise.
When we did leave Barbados we ran into more problems when we learnt that our Emirates flight to Sri Lanka had been cancelled because of the attempted air strikes in Colombo of which we had heard of during the latter stages of the game. It was left to Mr. S. Ramachandran of the Qatar Airways office in London to ensure our safe and quick passage to Colombo.
Correct spirit of the game
But if one were to look at the positives that emerged from the tournament, I believe we played excellent cricket right through the tournament in the correct spirit of the game, winning the hearts and minds of millions, not merely Sri Lankans. Personally I am happy that, at the age of 37 years, I was able to give my best to the team and perform well at the highest level.
More importantly though, the best outcome of the tournament has been that younger players whom we entrusted responsibilities to-most notably --- Upul, Mali and Chamara --performed really well. It augurs well for the game in Sri Lanka, especially considering that the next World Cup will be held in the sub-continent in 2011.
What we must however guard against is complacency. We saw that after our victory in the 1996 World Cup where although our winning streak continued for some time thereafter, we were unceremoniously knocked out in the first round of the 1999 World Cup.We arrived in Colombo on Thursday and that was yet another endearing experience. We knew we had performed exceptionally well in the World Cup but we didn't expect to receive the kind of response that we did from the public. It was so moving to see people line the streets in pouring rain, just to say 'thank you'. It is in fact our duty to say 'thank you' to the Sri Lankan public instead, for their unwavering support through a difficult but thoroughly exciting eight weeks.
Encouragement
I must also thank President Mahinda Rajapakse for journeying from Sri Lanka to Barbados to watch us play in the finals. He had a chat with the team at the Barbados Hilton before the game and after the match too. His good wishes inspired us in those crucial hours before the finals.
Cricket is a team game and while each and every member of the team, in their own way, helped me experience a memorable World Cup I must make special mention of those who are not often credited with the teams' success: Coach Tom Moody, his assistant Trevor Penney, our physiotherapist Tommy Simsek, trainer C.J. Clark and our Manager, Michael Tissera. Their attention to individual players was extraordinary and I believe that was one of the keys to our success.
What next, is the question that I am being asked most frequently right now. In the coming few days, I will be taking time off to be with my family and get some rest. Then it would be back at physical training in preparation for the three match series against Pakistan in Abu Dhabi ---if I am picked for that squad.
In the longer term, I am at a stage of my career where it would be premature to make long term decisions right now even though I am at the top of my physical fitness and have just enjoyed quite a successful World Cup. I would have to consider my options on a series by series basis and that is where I am at present.
I wouldn't have been here if not for the support of my family, my extended family ---our cricket team-my friends and my fans. And for all that support that I continue to receive and cherish, I will always be grateful. Word Cup 2007 has been a truly unforgettable experience.