Isipathana drub Wesley
Isipathana recorded their second successive win of the ongoing inter-school rugby season when they drubbed Wesley by 47 points to 5 in the match played at Havelock Park yesterday.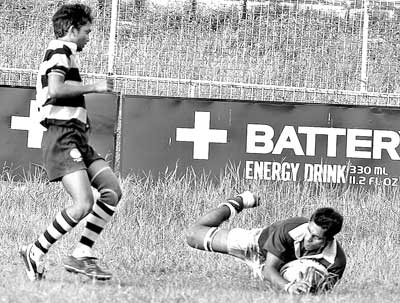 Isipatana winger Kasun Gamage plants the first try in the second half. (Pic. by Saman Kariyawasam)
The Isipathanians held on to a comfortable 26 nil lead through three goals and a try in the initial half and continued their good work in the second half when they accumulated a further 21 points which came off through three goals to the solitary try scored by the Wesleyites.
Though the game got off to a slow start the Isipathanians got the first opportunity in the 13th minute but the penalty that was offered was kicked astray by full back Reza Mubarak. But he made amends in the latter part of the game and incidentally was their playmaker and went on to bag the player of the match which was awarded by Suntel.
From this early lapse the winners made no mistake and made the first move two minutes later through wing three quarter Dinehsa Chaturanga with Mubarak adding the extra points. Burly No 8 Sachith Saranga gave the Isipathanians their second try in the 23rd minute and four minutes later they increased their lead from a try by centre Niroshan Chaturanga who followed it up with another under the post try just seconds before the short whistle. Both tries were converted by Mubarak.
The second half saw Isipathanians making an early breakthrough as winger Kasun Gamage intercepting a pass midway in Wesley territory ran over 40 metres to score under the posts giving Muabrak and easy kick at goal. Wesley decreased the lead ten minutes later when winger Tuan Jayah barged through from a five metre line out for a left corner flag try.
Though the Isipathanians had plenty of chances to make further headway they lacked the finishing touches. Nevertheless they kept on increasing their lead as they went over to score two more tries in the 22nd minute a under the post try by scrum half Srinath Sooriyabandara and then in the last stages of the game a try by winger Dinusha Chaturanga, which was his second of the match. Mubarak made no mistakes with the conversions before referee Aruna Jayasekera blew the long whistle.
The Isipathanians will now confront defending champions St Peter's in their next match which is scheduled to be played on May 12 at Bambalapitiya.