Thomian grit no match for St. Peters' flair
S.Thomas' who inflicted a stinging defeat on the Kandy idols—Trinity in their first outing last week suffered the same ignominy this time when the nimble footed Peterites ran circles around them to post a 23 points (4 tries and a penalty) to 15 points (a goal a try and a penalty) in their 'A' division schools rugby encounter at Bambalapitiya, yesterday.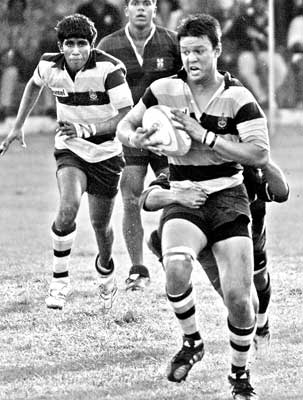 Peterites on the offensive as one player is off with the ball. (Pic by Ranjith Perera)
St. Peter's thus retained the custody of the Archibald Perera Memorial Trophy for yet another year.
At lemons the winners led at 13 points to 10 points.
It were the Peterites who dominated the proceedings from the very outset, but, they too showed some rust in their armory with their indecision with the ball passing which at least cost them three possible tries. Besides this their place-kicker centre Harsha Weerakody had left his kicking boots at home as he missed all conversions barring a single penalty.
The line-outs were shared, but, in the other set pieces it was like a new paved one way lane for St. Peters. Then by the second half the visitors ran out of steam, but had their tempers high as we saw two Thomians and a Peterite being sin-binned by referee Nizam Jamaldeen.
S. Thomas' opened scoring in the second minute of the game with a penalty conversion through full back Manjith Thammagama who was also accurate with the addition of two points to the try scored by scrum half Asela Tennekone.
In addition Centre Niluka Wickrematilleke planted an unconverted try in the second half. For the winners-- winger Jerald Kanute and Thilan Buulner fell over the opposite try-line in the first half while centre Dilshan Paul scored both tries in the second half of the game.
The junior game was won by St. Peters at 5-3.