Goldilocks is the sexiest man
"Our Beloved Boys" returned home this week (Thursday) to an overwhelming welcome by students and cricket fans of all ages lining the streets from the airport all way down to Colombo, despite the torrential rain! Many have been our team members bearing popular titles and nicknames such as "The Master Blaster" and "The Spin Wizard", etc., True to form, yet another one of our cricketers have earned himself a title; this time a rather unusual one for the Sri Lankans! But, then again he is an "unusual bowler"… Without further ado let us introduce our very own Lasith Malinga who has been voted the 'Sexist Man in Cricket' for the 2007!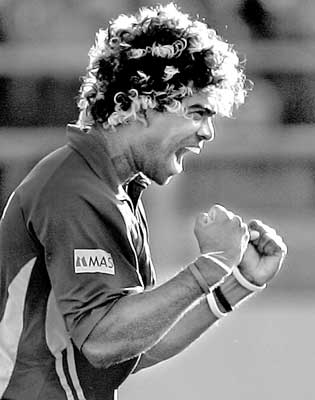 Sexist Man in Cricket
Consecutive wicket haul
Talk about having a good World Cup eh? What, with his record breaking four consecutive wicket haul in the Super Eight match against South Africa, Malinga (fondly known as "Mali") has had a fabulous run at this year's World Cup! This being his first makes it that much more special. To add to his fame on the field, Mali seems to have left quite a mark off the field as well. Up against quite stiff competition such as former Windies ODI team skipper Brian Lara, England all-rounder Andrew Flintoff, Australian pacer Shaun Tait, Windies opener Chris Gayle, England batsman Kevin Pieterson, Kiwi spinner Daniel Vettori and South Africa pacer Makhaya Ntini, Mali must really have been something special in the Windies!
The Easy Magazine of the 'Sunday Sun' newspaper of Barbados conducted the contest to pick the 'Sexiest Men in Cricket'. "With his eye-catching, blond-streaked curly hairdo, eyebrow ring and tattooed biceps, the unique 23-old strikes 'Easy' as the type who would be up for anything...and anywhere," was the Magazine panel's description of Malinga. It went on to say "the Sri Lankans have brought life to this World Cup with their exuberant, joyful cricket and none more so than the wild child, 'Malinga the Slinga'."
"I was quite flattered and happy to hear about this latest title thrust on me as I was never expecting it," said the modest paceman. As for his unique look that has taken the world by storm, Mali explained how he's always done what he felt like when it's come to his appearance, so he just continued to do so. Although, initially his parents had a few objections to the extremity of his "new" look, they'd eventually come around he added smilingly. "They know that I don't do any harm to anyone else and am usually quite peaceful, they didn't mind too much that I created a novel look for myself," he elaborated.
Malinga, with his unorthodox "slinging" action, was one of the most outstanding players of the World Cup claiming 18 wickets at an average of 15.77 in the eight matches that he played in the tournament. Having reunited with family and loved ones at Sri Lanka Cricket on Thursday, he seems to be quite the fun loving, yet dutiful and respectful son. "I was overjoyed to be a part of the World Cup squad for the first time in my life and was especially excited to come into the final, said the "Goldy-locked" boy himself.
Yet again proved ourselves
As for his world record-breaking haul he said emphatically that, "we yet again proved ourselves to the whole world that we will never go down without a fight!" And that's just what they did. However, even though we gave Australia a good fight, the team that made fewer mistakes ultimately won; unfortunately at the final, that team wound up being the Aussies, he said.
"My parents are very happy and proud of my performance and even the people from my hometown in Galle have always been supportive of me, even though their reactions to my unconventional 'look' has been varied, with some liking it and some hating it, said the fiery Mali jovially. As for cricket fans, he knows now that a lot of them are behind him and have constantly encouraged him, for which he's quite grateful. "The team is very united and are quite helpful and supportive of each other, irrespective of seniority; this to me is our key to success," he added proudly.
Delighted Coach
"Nobody can be as proud or as happy of Malinga as I am," says Mali's delighted Coach Champaka Ramanayake who in his heyday was one of Sri Lanka's most formidable fast bowlers. "Malinga is a player with tremendous mental strength and self confidence and is very quick to pick up. He has developed rapidly over the years and has a tendency to turn out trumps at big, high-pressure matches. Sri Lanka has truly found in him a match-winning player," he said with pride.
Having first discovered his protégé when Mali was just a skinny little 17 year old, playing for the Sri Lanka Cricket Foundation (SLCF) in Galle, when Ramanayake was put in charge of coaching the fast bowlers. From the first time he saw Mali bowl at the SLCF, former coach cum player of the Galle Cricket Club (GCC), Ramanayake, immediately asked Mali to come whenever he could for training as he knew that Mali had to juggle around his school matches as well as the Foundation matches as well.
Mali debuted first class match with the GCC which was against the Colombo Cricket Club, was as a result of Ramanayake having a stiff neck and asking Mali to replace him at the match.
The GCC had a landslide victory over the CCC with Mali taking a huge haul of eight wickets! "It was a match neither of us would ever forget." Mali was then also made a permanent member of the GCC and went on to play for them for the next three to four years. However, together with his coach's retirement from the GCC, Mali too was advised by Ramanayake to start playing for the NCC cricket team. Thereafter, he was also selected to play in the under 23 Sri Lanka Emerging Team in a triangular series against India and Pakistan 2003. Here too he was one of the most outstanding players of the tournament, having got wickets in all the matches, said Ramanayake. Even then, the international players found it quite difficult to face him.
International Level
At this stage, Ramanayake being confident that Mali was ready for test exposure at an international level, he had approached a few officials and eventually got Malinga included into the Sri Lanka squad touring Australia in 2004.
At the same time, Ramanayake was also invited to be the National Coach (Fast Bowling). Malinga was even handed over a stump by Adam Gilchrist after a match saying that Mali was his man of the match! Having taken 13 wickets on that tour, it was little wonder!
"Malinga has come a long way from when he first started out and today is not only a world record holder but a national hero as well," said the beaming coach.