Lanka looking for WC Sevens slot in 2009
By Harry Jayachandra
The International Rugby Board (IRB) has awarded Rugby World Cup Sevens 2009 to the Arabian Gulf Rugby Football Union, with Dubai beating off Australia's bid to host the showpiece event in February 2009. This is good news for Sri Lanka as well given the conditions.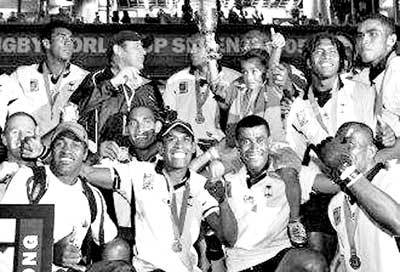 Reigning Champs: Fiji hoist the spoils in 2005
Chairman of the IRB Dr Syd Millar,, made the announcement at the body's annual meeting in Dublin following Thursday's vote that brought to a close the selection process that began in June 2006.
Only the top 24 teams are invited for this tournament. So what are Sri Lanka's chances? The Sunday Times posed this question to Vice President of Sri Lanka Rugby Football Union Asanga Seneviratne who said: "It will take a lot of preparation and hard work. Many criticized our performance at the recently held Dubai Sevens. In my opinion most of it is unfounded. I think we scored more tries in this single tournament than we did from 1989 to 1999. This is a significant achievement."
Seneviratne added that the two main problems the national team faced was conditioning and international exposure. "With regard to the former we are bringing down Keith Roberts to conduct a two week 'training for trainers' programme. Roberts has been working New Zealand's All Blacks for the past 12 years. He has also been contracted by Japan. If one takes our recent performances in sevens tournaments, it is in the second half that we have faded. By having a number of qualified trainers we can rectify this problem," said Seneviratne.
With regard to international exposure Seneviratne said: "The union conducted two successful sevens tournaments this year. We are also looking at playing in smaller tournaments in Singapore, Malaysia and Germany to name a few. Certainly our chances of making a mark in world rugby is better on the sevens stage than in the 15 a side game. That is one of the reasons why we are hoping to have more sevens tournaments next year. We are also hoping to offer more prize money because players need to look after themselves as well. Furthermore we have received Municipal Council approval and the architects are busy designing our four storey headquarters. This also we hope to complete by the latter part of next year. I agree that if everything falls into place we have a chance of making it to the 2009 Sevens World Cup." Meanwhile Rugby World Cup Sevens 2009 will be the first to include a women's tournament that will run alongside the men's competition and will consist of 24 men's and 16 women's teams.
The inclusion of a women's tournament for the first time is an exciting development for the women's game which is experiencing unprecedented interest following the success of last year's Women's Rugby World Cup.
Dubai 2009 will be the fifth Rugby World Cup Sevens. The inaugural tournament was held in Scotland in 1993 with Tournaments following in Hong Kong in 1997, Argentina in 2001 and again in Hong Kong in 2005.