It soothes and it startles
A new concept hotel, Casa Colombo, offers the discerning traveller a different experience blending the old and the new
It is an opulent and eclectic hotel, where old and new blend in startling contrast. And at a time when a pall of gloom has descended on the country's tourism industry, the newly opened Casa Colombo, may well provide a much needed fillip to the capital, with its refreshing approach to hospitality.
The experience for guests, hopefully the up-market business traveller and the tourist in search of something unique, begins when they arrive in the country and are met by the Casa Domo, a major domo cum personal butler who will whisk them off in a gleaming vintage car to the hotel and attend to their needs throughout their stay. "We believe in coming to the guests not letting the guests come to us," says Horst Schmidtke, the hotel's ebullient General Manager.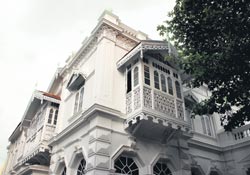 Outside: One of Colombo's gracious old mansions.
Located in the midst of Bambalapitiya's urban maze, massive wrought iron gates shield Casa Colombo from the dusty Galle Road traffic. The first glimpse is serene, a stately white walled Moorish facade. Then come the contrasts: a shocking pink chandelier suspended from the lofty porch, a tapas bar in the garden with egg shaped chairs and cracked glass tables and the pink pool, which Horst Schmidtke proudly claims "is probably the only one in the world".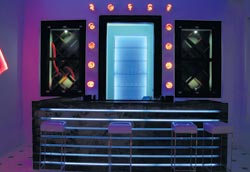 Casa Colombo is owned by Lalin M. Jinasena who has been the creative force behind the property in every sense of the word. Lalin looked at many of Colombo's old houses before realizing in this, the potential to make his vision of combining the old with state of the art contemporary style, a reality. Built some 200 years ago by a wealthy Indian trading family, the Esufallys, it was a mansion of grandeur and space sprawling over 22,000 feet with intricately laid mosaic flooring (both Italian and Indian), moulded ceilings and sweeping staircases.
Restoration and transformation was achieved in seven short months. "Actually the hardest part was putting the infrastructure back into this building. There was no proper wiring and only three toilets for the whole house. The walls were all blackened. Rainwater was coming in through the roof. But it was a beautiful transformation when we cleared all the debris out…telephone wires, conduits, partitions."
Retro-chic is how Lalin likes to describe Casa Colombo's design concept, explaining that he felt the need to create something other than a beautiful Geoffrey Bawa style hotel, of which there are already so many in the country. Contemporary, minimalist and yet with so many individual touches, this is very much Lalin Jinasena, for the design from furniture to cutlery and bathtubs is all his, evolving as he walks around.
"The design is an ongoing process," he admits, "more ideas keep coming in. In a conventional hotel, you'll design a hotel room and replicate it and there's no reason to change it. In a place like this where we are fitting into an existing house, each room is custom made."
On his insistence, all of the design elements were made in Sri Lanka, whether the brocaded leather backed chairs in the main restaurant, the lampshades or linen, all turned out by many different craftsmen. The plan is for an in-house boutique where these could be had on order.
Sri Lankans must have more belief in themselves, says Lalin, adding that his determination to do it all here rather than taking the easy option of importing beautiful furniture from abroad, stemmed from his father who built his own successful business manufacturing water pumps here. "I hope it will encourage other people and give them pride in what they do."
Entering the white walled mansion, guests savour the old-world appeal of mosaic floors, cane furniture and green palms with the eye drawn to the massive fibre-glass globular lampshades. Then comes the surprise element as you turn a corner and encounter the bar, aptly named Ice3, all futuristic red and blue neon with a fluorescent pink design on the walls that has you guessing for a moment.
A grand wooden staircase beckons, leading to the hotel's 12 luxurious suites, each following on a similar theme but with its own special features. Three are deemed leisure suites, eight corporate and the piece de resistance, the Royal Suite. They will each carry the name of a Colombo street, says Horst gleefully, so that hopefully guests remember them and identify with the city.

Lalin Jinasena
Within the suites, quietly elegant grey and black checked bedspreads on king-size beds are set against a different colour scheme in each room matched with sweeping raw silk drapes. One wall of the room is polished cement inlaid with gold squares, all hand-done. The bedside lamps, with their intricate lattice work are eye-catching as is the antique telephone on the bedside table.
The luxury is combined with the latest in technology. The flat-screen TV conveniently positioned can be swivelled for viewing either from the bedroom or lounge and a high fidelity sound system is complemented by hi-tech communication facilities, laptops, WiFi et al, making a business centre in the hotel redundant.
The unique touches continue. Open the doors to what you think is a little balcony to discover a copper bathtub. Sunlight filters in through the multi-hued window panes and the faded old wood panels with their cracked veneer take you back in time.

Horst Schmidtke
Then there are the photographs, another hobby of Lalin's; huge black and white blow-ups of Sri Lankan scenes and faces, not the tourist brochure images of damsels with flowers as you might expect, but faces full of character, weather beaten, windblown, yet essentially Sri Lankan.
This is then the happy contrast that defines Casa Colombo. The pink pool at the back startles with the glass sunbeds alongside. But an old mango tree and tall palm carefully untouched, intertwine in the middle creating a shady oasis.
The mansion's hall with its grand gold ceiling has been transformed into the main dining area named HVN. The cuisine masterminded by American chef Alex Stanich is fusion, Asian, European, the whole combination, but reminders that you are in Sri Lanka are ever present in the Tuna Pol Sambal Tortilla or the Ceylonese Triple Shot ( a soup with kola kenda, rasam and chilled cantaloupe with basil) or Kankun stuffed Tandoor Chicken just to name a few.
The restaurants, HVN for fine dining, ZaZa, the laidback fusion Tapas Bar ("more sophisticated canapés" as Lalin puts it), Ice3 and the T Republic offering a range of local teas and indeed high tea will be open to Colombo folk who want to sample some Casa cuisine. The ice-cream is made in-house, Horst hastens to add.
While not entirely comfortable with the boutique hotel tag, Casa Colombo is what Lalin envisions as the first in a line of signature properties around the world.
"I appreciate his determination to do it in Sri Lanka," says Horst. "Many people have written Sri Lanka off but you don't write your country off. Nothing is perfect but it doesn't mean you turn your back on it."
Of course it all comes at a price…in the range of USD 600 and for Lankans, a special introductory rate of Rs 17,000 for the Traveller's Suite.
For more details check out www.casacolombo.com