Two plays: One only sound and fury, the other drama!
Two actors from Sri Lanka tread the boards in London
When I was in Sri Lanka about a year ago I heard that the British Council was producing Shakespeare's "Midsummer Night's Dream" which was to be directed by Tim Supple. It was also being widely publicized that this was going to be a multi-lingual production incorporating the many languages of the actors that were finally chosen to be in it with English as its linguistic platform.
Apparently, (after several auditions) the production included actors from several of the South Asian regions, including those who spoke in Sinhalese, Tamil, Hindi, Bengali, Marathi, Malaysian and Sanskrit. The production also included acrobats from Delhi, dance masters from Kerala, realistic actors from Mumbai, folk actors from Tamil Nadu and musicians from Manipur.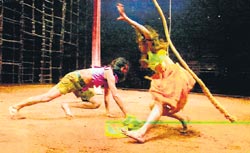 Prasanna Mahagamage and Yuki Elias as Hermia and Demetrius
Having seen almost all the productions that Tim Supple has directed in the past ten to fifteen years (admittedly, I am a great fan of his work), I was eager to see the end result of this collaboration as were several people in the United Kingdom. Especially because the past year was promoted as the year that produced the Complete Works season which, encouraged as many interpretations of Shakespeare's work, to be directed and produced in as many languages whilst incorporating many cultural interpretations as possible.
After its premiere in India, the production finally reached Stratford-upon-Avon in the summer of 2006 and was a sell-out. The critics raved.
When it finally came to London's Camden Roundhouse I rushed for tickets. In all, Tim Supple had delivered a visual feast. The show looked spectacular and carried the trademark Tim Supple creativity, which was stamped into every inch of it.
The set was amazing, as was the lighting and the mood enhancing Indian music. The red silk strips of fabric that hung down from the rafters and cocooned Titania were breathtakingly beautiful, as was the forest created with a backdrop of paper which was torn in a spectacular fashion to reveal the troupe of fairies in their kingdom. There was a palpable energy that exuded from the actors notable in the many "romps", consisting of clothes being ripped off, passionate clinches with limbs entwined etc.
The entire ensemble seemed to be totally immersed in this creative process and fully believed in their involvement in the play. To me, the magic ended there.
When Tim Supple used to employ his creativity in the past, he worked with actors who came from the same linguistic background, thus creating magic with their involvement. However, here no one could make head or tail of what was going on. Those of us who were familiar with the plot were completely lost trying to make a connection that linked us to the plot. One had to be born in Tamil Nadu or for that matter in a South Asian region to understand the English that was spoken here.
Prasanna Mahagamage (the only Sri Lankan in the production) who played Demitrius was totally immersed in his role and had great presence but when he spoke (Sinhalese was the only language he spoke in) I (being a person who speaks Sinhalese) could not understand a word!
One critic who raved about the production had said "you forget you are watching Shakespeare" adding that "this troupe has taken our national poet, transmuted him into something rich and strange and almost unrecognisable". Another critic wrote, that this "cultural confection does take a while to get used to".
To me, this highlighted the problems of working with a multi-national cast while incorporating their individual languages into one production.
The costumes were a ghastly concoction of ideas. The critics here raved about these too. What do you expect when a "riot of colour" is all that it takes to convince the average westerner that one is being "ethnic".
Why is the British Council putting its money into sponsoring something so ridiculously costly while it is not benefiting anyone who lives in the regions its cast is from?
I am also beginning to believe that the critics who raved about this show are also being drawn into the multicultural quagmire that British politics has got itself into. Be "inclusive" by all means, but not to the point of losing the plot.
At the same time, The National Theatre is running a production of Brecht's A Caucasian Chalk Circle in collaboration with the experimental theatre collective Filter.
Directed by Sean Holmes this production includes video art, innovative sound effects and a narrator who looks as if he has walked straight out of a Franz Ferdinand video. The play's technical inventiveness is in marvellous collaboration with an excellent cast. Here again, we are given a taste of several accents, which contributes to the totality of the production whilst drawing the audience in. Brecht's intention of alienating his actors is successfully enhanced by the cast who provide all the necessary sound effects from within the performing space. There is also a great strength in the manner in which the director and the cast have managed to convey the horrors of war whilst incorporating the comic potential of the play and the actors who flit from playing one character to another effortlessly.
Amongst this group of actors is Thusitha Jayasundera who switches from one character to another like a chameleon, becoming almost physically unrecognisable at times. Her comic performance as the Grand Duke received a spontaneous ovation. Here is a great interpretation of a great play that remains in your mind long after you have left the theatre.