Battling another year with no home
Still in temporary shelters, the refugees of Trincomalee tell of their year-long tale of woe
"Life is difficult. We are not getting proper food. Initially, they used to give us food periodically and we were able to survive, but now, it's only after a gap of one month that we get food and that too is enough only for a week. It's been like this for several months. To whom can we complain," asks P. Nahamma, 45.
Nahamma lives in a tent in Kiran, a few kilometres north of Batticaloa. Some 750 internally displaced (IDP) families are sheltered there, breathing the arid dust every minute. It's been several months since these IDPs from Trincomalee have been resettled in Kiran in semi-permanent huts, partly made of tin and wrapped in thick white polythene.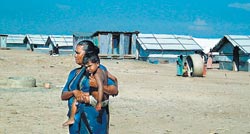 Nahamma with her grandchild ponders their uncertain future
Their woes date back to when a section of the Trincomalee population fled as the conflict escalated in April last year and worsened as the year progressed. However, in March, the IDPs from Vakarai who fled several months after the Trincomalee IDPs, were able to return to their villages.
Yet even after a year, there are no talks or plans for the resettlement of the Trincomalee IDPs.
"We like to go back home, if our security is assured. Here we are merely surviving, without proper food and clothing. This is the cloth I've been wearing for many days," says Nahamma, pointing at her faded blue sari.
Though the IDPs in Kiran had never watched a cricket match in recent times, the boys are very keen to play cricket and have even made a pitch closer to their tents. Warning the boys not to hit the ball too hard, R. Kokilavani , 24, from Pomarathady in Verugal, the border village of Trincomalee says that seeing her brother playing cricket, reminds her of home, where "we had everything perfect - to study and to play".
"We have no jobs here. So it's difficult for us to move ahead with our lives and daily life is a grim struggle about what we are going to eat for the day. Many who had gold jewellery have sold it to feed their families. But those who don't have anything, are sometimes only surviving on rice and water," she said.
Away from the dusty breeze in the town, Sinhala Maha Vidyalaya, once a school and now a shelter, houses 108 IDP families from Mutur. Each classroom is 'home' to one family, with more than four members cramped up in a small space along with clothes, cooking utensils and books.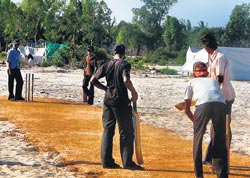 Makeshift pitch: A game of cricket to light up their lives
Baby creams, cologne, soap, combs etc are arranged on the classroom ledges, while clothes lines are connected along the grills to the nearby well in the premises. Thick blue plastic sheets provide a little bit of privacy.
Though the IDPs in this camp are provided with food and are in close proximity to the authorities, they still have bitter tales of woe.
Mary Jacintha, 52, who has come to visit her sister in this camp relates a terrifying experience her family who were in a church in Mutur had to face. "My son was working in a well known INGO and was known to everybody in that area. On the 31st of March, security forces surrounded the camp and arrested six men, including my son. It's after a few days with much effort, that they were released on bail though they have to report to the police every month," she says. Holding her one-year-old baby, 25-year-old J. Rani who lives in an upstair classroom marks the date they came to this camp. "It was April 24, last year. My family started to move during the latter part of my pregnancy. It was so hard. My prayer during that time was that my baby should survive even if I die."
She delivered her second baby in this camp and has had to bring him up in difficult circumstances. "Those days, when the baby was a few days old, it was very difficult. I felt as though I was all alone. During the birth of my first child, everyone was around and it happened while at home. I wished I was at home this time too," said Rani with regret.
Like Rani, those who are displaced from Trincomalee District, are still awaiting a decision whether they will be resettled soon and if not, whether necessary food and other supplies will be provided to them.
Trincomalee Government Agent Major General T.T de Silva said that the delay in resettling the Trincomalee IDPs was due to the heavy mine clearance in the area.
"From time to time there had been disturbances in Trincomalee district and the conflict was more prolonged than in the Batticaloa district. The LTTE has mined the land heavily and clearing it is taking time. The Government cannot resettle the people without assuring their security. If one person got caught to a mine, the Government would be blamed," he said.
Major General de Silva added that Eachilamputtu and Mahindapura are two main areas that are heavily mined, among other areas in the Trincomalee District which are yet to be cleared.
"Hopefully, if conditions prevail for clearance of mines in those areas, we'll commence mine clearance within this month or the coming months," he said. For those like Nahamma and Rani, it cannot be too soon.