Beware of the mosquitoes now that the rains are here
By Lincoln Wijeysinghe, Dehiwala
A few months ago we had epidemics of Chikungunya, Dengue etc., which left several dead and hundreds crippled by the after effects. The current rains are likely to trigger a repeat of that painful experience unless preventive measures are put in place NOW.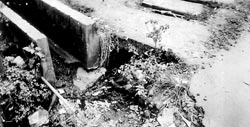 Mosquito breeding places should be detected and eliminated
The thickly populated towns and suburbs most affected can reduce their mosquito population to a great extent in weeks by simple, inexpensive methods if the relevant ministers and officials are activated.
A three-pronged attack on breeding site, larva and adult is proposed herein for implementation in parallel by health authority and citizen to bring the mosquito under control in a very short time. After all, the mosquito's lifespan is usually only a few days!
The partnership:
Health Authority :- Educate, Assist, Enforce.
Educate: Daily reminders on all TV and radio channels and newspapers on (1) Detection and elimination of mosquito breeding places. (2) larva traps. (3) Mosquito net treatment.
Assist: (1) Inspect premises and advise on above mentioned matters. (Volunteers could be recruited to help). (2) Smoke test, septic tanks and soakage pits to detect hidden access for mosquitos. This cannot be left to the residents. (3) Provide a sample Larva Trap for residents to make their own. (4) Treat mosquito nets with permethrin or similar safe contact insecticide. (5) Get resident's signature on record of advice and assistance given, impressing on him his responsibility. (6) Treat public breeding places such as canals, ponds etc., with safe larvicides such as Bacillius Thurenginsis or Larvivorous fish as appropriate.
Enforce: The responsibility is now clearly with the resident. Wilful negligence must be followed up with warnings and legal action.
Resident :- Environment Control, Larva Trap, Adult Trap.
Environment Control : Eliminate mosquitoes hatching in stagnant water in containers, gutters, trees, plants, filling or draining puddles, rear larvivorous fish or treat with larvicides all ponds etc., in line with information provided by health authorities daily in the media.
Larva Trap : A no cost device invented by Engineer Sarath Jayakuru.
(1) Cut a plastic bottle across the middle (2) invert the funnel shaped top part and insert into bottom part. (3) Seal contact area of the two parts with any water resistant adhesive (4) Fill with water. Your Larva Trap is ready.
Make as many as possible and place in dark areas of house and garden as convenient laying sites. With other laying sites eliminated these water filled traps would be the most inviting places to lay eggs. The larva hatched in these traps go down the funnel and die inside the trap. If the mouth of the bottle is heated and pinched to change the normal round opening to a ¼ inch wide slit opening, the efficiency is improved.
Coloured bottles are better than white. The traps must be kept full of water to prevent escape of any adults that may survive for a short time inside. The funnel must be kept free of obstructions. Fill some with foul water from the sink and some with clean water to cater to preferences of different species of mosquitos.
Daily media briefings must remind the public of all this.
Adult Traps: Humans and animals are the best bait to attract and destroy the mosquito. Mosquito nets treated with permethrin or similar safe insecticide would form good traps to kill the adult mosquito trying to reach the occupant.
These treated nets should not only protect humans but also be provided for kennels, bird cages and animals, converting these sources of blood into death traps for the mosquito.
The politicians and officials as usual may not respond to these proposals. Can we expect the president to be different and do something ?