Helmet: Take that into your head!
Motorcyclists are advised to go for life-saving headgear
Do not compromise on safety for several hundred or even a few thousand rupees. The choice is yours - a cheap substandard helmet with a high risk of head injuries in case of accident or a sturdy helmet which meets specified standards and will provide the protection needed.
This is the crucial life-or-death advice being given to all motorcyclists in view of their vulnerability on the roads of Sri Lanka."The motorcycle has been identified as the No. 1 vehicle involved in accidents in the past two years, according to police reports," points out Dr. Anil Jasinghe, Director of the National Hospital's Accident and Orthopaedic Service, stressing that 90% of motorcyclists are young and at the peak of their lives.
When selecting a helmet, safety should be your utmost concern
A survey done between March 29 and April 3 of 200 road traffic accident victims at the National Hospital clearly recorded that 53% were in the age group 20-35 years, The Sunday Times learns.
Unlike in developed countries which have a homogeneous road environment, developing countries such as Sri Lanka have a heterogeneous road environment. "Our roads are shared not only by powerful vehicles such as Pajeros and Ferraris but also by those grouped as 'vulnerable' such as pedestrians, carters, cyclists, motorcyclists and trishaws," says Dr. Jasinghe, citing the case of a bus-motorbike collision in which the bus will not be damaged whereas the motorcyclist may suffer serious injury.
And since 1990, half of all registered vehicles every year in Sri Lanka are motorcycles, says Dr. Jasinghe citing figures from the Department of Motor Traffic. In 1996, there were 2.8 million registered vehicles.

Dr. Anil Jasinghe
Most accidents take place along the Colombo-Negombo Road, the Colombo-Kandy Road, the Colombo-Ratnapura Road and the Colombo-Galle Road, The Sunday Times understands, with the "peak hours" for accidents being 7 to 9 in the night.
Appealing to motorcyclists to be more conscious of safety, Dr. Jasinghe stresses that substandard helmets have become a major issue.
Why? The statistics alone would make any person sit up and take note.
"Wearing a quality helmet would reduce head injuries and also their seriousness by 72% while cutting down to a drastic 39% the death rate due to head injuries," he says quoting global research.
A good helmet would have a smooth, shiny outer surface (shell) made out of specified material, so that in case of an accident the impact would spread across the whole of the helmet. The inner liner should also be a material that would be able to absorb the shock (energy absorber), while the inner padding should be comfortable and make the helmet sit well on the head. In helmets that have the jaw or chin protector, it is important to check out whether they mar the visual field while if there is a visor it should not be tinted as that would impede vision. The helmet should also be worn properly, not just placed on the head when passing a policeman. The strap should be secured well.
A few other tips from the head of the accident service are: Wear a good jacket to give some form of protection to the body, long trousers rather than shorts and for a better grip gloves and also shoes rather than slippers. Gloves would also shield against finger injuries. It would also be good to wear light-coloured clothing as opposed to darker colours to enable other motorists to see the motorcyclist better.
"If a helmet-wearer is involved in a serious accident, even if there is no visible damage to the helmet, it would be advisable to change it," suggests Dr. Jasinghe, explaining that the inner parts may have been damaged.
Another important message from Dr. Jasinghe is that when riding motorcycles children should not be considered "small adults". A misconception is that children would be protected if they wear an adult's helmet. "This is wrong and can cause a serious head injury or death to children," he says advising parents to get their children proper helmets.
The Sunday Times learns that though there are around 10 helmet manufacturers in the country of whom only a few conform to the standards specified by the Sri Lanka Standards Bureau. The market, especially in villages, is being flooded with substandard helmets imported by unscrupulous businessmen who wish to make a quick buck at the cost of the motorcyclist.
"The main mode of transport in rural areas is the mobike. What is happening is that some businessmen are tapping markets in countries like China and India, asking them to produce helmets as cheaply as Rs. 300, bringing them back and selling them for a few hundred rupees. The unwary motorcyclist, thinking he has got a bargain buys that," a businessman who declined to be named said.
At what cost, cheap helmets, which do not meet standards? Serious injury and even death to the motorcyclist.
How safe is a mo-ped?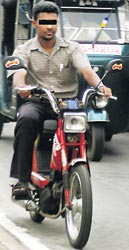 Beware of the mo-ped.
Used mostly by schoolchildren, the mo-ped which is a vehicle with an engine less than 50cc does not need registration under current laws.
Users don't need to wear helmets, but this is another category frequently involved in accidents, warns Dr. Jasinghe calling on mo-ped riders to don helmets for their own safety.