Trail of death and destruction
Two electrocuted
Two men from the same household were electrocuted on Friday night when they were attempting to fix a cable to a television set in their home at Bodhiraja Mawatha, Maligawatta, Police said.
The incident took place when there was a lull in the heavy rains that had lashed Colombo, causing floods to many areas, including Maligawatte.
One of the worst flood disasters in recent years has left at least 15 people dead and some 120,000 affected amidst scenes of destruction and despair. The heavy thunder showers with terrifying lightning that lashed five districts on Thursday and Friday have displaced more than 41, 000 people.
According to the Disaster Management Centre, 30,153 people were displaced in the Gampaha District, 4,153 in Colombo; 3,446 in Galle and 3,807 in Kalutara. Eighteen houses were totally damaged; and 567 partially. Of the partially damaged houses 516 were in Kalutara District.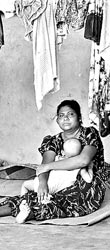 A flood victim at the Kettarama stadium
Gampaha Government Agent V.K.Ruparatne said their immediate focus was on providing immediate relief to the displaced.
"More than 8,000 families have been displaced in the five Divisional Secretariat areas of the Gampaha District. Giving a further breakdown he said 5,500 families have been displaced in the Wattala Division, 2,700 families in Kelaniya, 534 in Mahara, 250 in Biyagama and 50 in Ja-ela.
He also said that the floodgate of the Kelani dam in Biyagama had been damaged while the Nagamulla bridge had been washed away completely.
"This is of major concern to us as there are about 200 families living close to the dam gate. Sand bags have been stacked up along this area and people have been warned," Mr. Ruparatne said.
Colombo GA G.A.J. Sylvester said the Kolonnawa Division was the worst affected with 7,310 families displaced. He said more than 14,000 people had also been affected in Jayewardenapura.
Six deaths were reported from the Galle District."Elpitiya, Nagoda,Yakamulla, Baddegama, Beruwala and Galle town are the worst affected. Most of the affected are sheltered in temples and other public places. Once the water recedes, we will be assessing the damage to property," Galle GA Asoka Jayasekara said.
Mathugama, Palindanuwara and Bulathsinhala in the Kalutara district have been badly hit by landslides.
"We had warned the people of landslides during the monsoon season. But as this is only the inter-monsoon season, they were not fully prepared. We are providing relief and medical supplies to the displaced while damages to property will be repaired once a proper assessment has been done," Kalutara GA S.Hapuarachchi said.
Meanwhile, the Head of the Landslide Division of the National Building Research Organization (NBRO) R.M.S Bandara said the incessant rains within a short period of time had caused sudden landslides.
"With the rain, the moisture of the soil increases and the intensity of the rain would have loosened the soil resulting in landslides. Improper and unsupervised soil digging practices when building have led to landslides even in areas such as Colombo, Gampaha and Piliyandala, which are not usually associated with landslides," he said.
Underground leak triggered cave-in
The big crater on Galle road in Wellawatte was caused by a leakage in an underground sewerage pipeline, a city council official said.
He said the leak could have caused soil erosion triggering a cave-in on Friday.
The situation disrupted traffic along the Galle road with vehicles being directed to use alternate roads. Even yesterday many motorists were inconvenienced as repairs had still not been completed.
A similar crater occurred in the middle of old Darley Road in Maradana on October 15, 2005 and a bus carrying about 40 passengers narrowly escaped the incident.