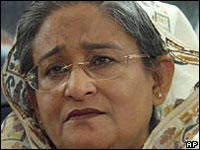 Sheikh Hasina
DHAKA, Saturday (AFP) - Former Bangladesh prime minister Sheikh Hasina Wajed will return home on Monday, more than a week after the military-backed government backtracked on plans to exile her, a top party official said. Hasina, leader of the opposition Awami League party, would arrive in the capital Dhaka at 4:00 pm (1100 GMT) Monday on an Itihad Airlines flight from London, party general secretary Abdul Jalil said.
"The Awami League working committee members will be at the airport to receive her. We hope the government will not arrest her," he said. Hasina, leader of the 19-party opposition alliance and who served as prime minister between 1996-2001, is facing charges of murder and extortion.
Police had suspended the arrest warrant against her pending further investigation into the murder charge. But they said she could still be arrested in an extortion case filed by the Bangladeshi head of a Malaysian company. Last Wednesday, the government said it was lifting restrictions on her return, backtracking on plans to exile her amid local and international pressure.
The government had blocked Hasina's return from abroad on April 18, saying she was a national security threat, and she was later refused permission to board a British Airways flight when she attempted to return home. Bangladesh has been ruled by a military-backed government since January when the country's president declared a state of emergency and cancelled elections slated for January 22.
The new government launched a nationwide crackdown on graft, arresting more than 50 top politicians of the two main parties led by Hasina and her bitter rival, Khaleda Zia. Authorities had been trying to force Zia and Sheikh Hasina into exile as part of a crackdown on political corruption, accusing both of years of misrule.
The government has vowed to clean up politics and carry out sweeping electoral reforms before setting a new date for elections. Last month, the head of the government pledged polls would be held before the end of 2008.