Prasanna's island hide-away after Elephant Corridor
Sri Lanka's most ambitious boutique hotel owners said that despite uncertainty in the industry following air raids by the LTTE, they were going ahead with an up market boutique hotel - on an island off the southern coast.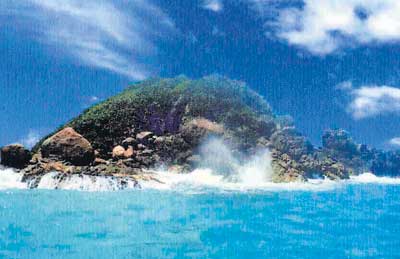 The isle of Agnes
"I am confident about this country - it may come so much from the patriotism but mostly from the potential I see here," Prasanna Jayawardena, Chairman, Tropical leisure Management Ltd told The Sunday Times FT.
Jayawardene, who has promoted and built some top up market resorts like the Elephant Corridor, last week received Board of Investment (BOI) approval for a tourism project on a one acre island at southern Weligama. He said that each suite in the five suite hotel called the 'Isle of Agnes' is priced at US$ 1000 to US$ 10,000 per night.
Asked whether he was confident of marketing at such a high price when the ground situation was not conducive to tourism, he said, "In 1971 and 1987 to 1989 there were worse situations. Despite all these stages in conflict, tourism will go on. Our region is the fastest growing region for tourism in the world and we must take advantage of it."
He said that the country has been focusing more on the European tourist market for the last 20 to 30 years is the charter traffic. "We should focus more on the emerging economies such as India and China," he said.
He said that the project cost is Rs. 220 million which will be internally generated funds as well as some loans. "We are due to start construction within a few months and open the hotel by the end of the year," he said. He said that there are several other approvals the company needs such as Tourist Board approval together with sanctioning from certain line ministries. "But Minister Sarath Amunugama together with BOI Chairman Dhammika Perera fast forwarded the BOI approval which was much needed," he said.
Sources close to Jayawardena said that the project was in the pipeline for the last five years which had frustrated the promoters. "One of the former ministers in charge of the BOI had wanted a 'share' of the island. This was the main reason that it was held up for so long," a source told The Sunday Times FT. Each suite at the new property will have a small theatre, a little communication centre, a small gymnasium with one machine, two or three separate sleeping options (beds), if possible one on the roof top in the open. "There will be a private beach for each suite, electronic controlled blinds, lighting systems, billing systems, under water cameras all on thumb print together with a private wine cellar in every room with a bar facility with a bar and fridge," Jayawardene said.