Sri Lankan Minister visits RAD Headquarters
Sri Lanka's Minister of Export Development and International Trade Prof. G. L. Peiris, visited the international headquarters of RAD Data Communications in Tel Aviv during his tour of Israel. RAD is a major international manufacturer of data communications and telecommunications access network solutions.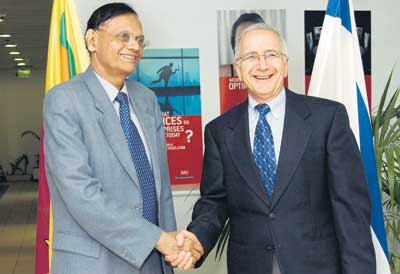 Prof. G. L. Peiris and Motti Holler
While at RAD, Prof. Peiris met with the company's President and CEO, Efraim Wachtel, its Sales Director for Asia, Motti Holler, and its Director of Corporate Projects, Jacob Fass. The Sri Lankan ambassador to Israel, Tissa Wijeratne, was also present, according to a press release from RAD.
"The telecommunications infrastructure in Sri Lanka has undergon impressive, sustained development, and RAD has accumulated broad experience in meeting the specific requirements of such markets," Holler noted.
"For that reason we see a growing interest in Sri Lanka in RAD's wide range of access solutions and technologies, especially in the area of cellular and mobile backhaul aggregation and optimisation," he stated. "These include 2G and 3G voice and data over TDM, ATM and Ethernet/IP/MPLS transport networks,
HSDPA over xDSL and Ethernet, and Abis and Ater optimisation."
Prof. Peiris was in Israel as the guest of Israeli Minister of Industry, Trade and Labor Eli Yishai. During the visit, the ministers signed an agreement of economic cooperation between the two countries.