Locals to fill tourist hotels
Sri Lankan tourism, using the old adage 'there's no point crying over spilt milk' is showing a brave face on an uncertain future and – like the crisis-filled years of the industry soon after anti-Tamil riots broke out in 1983 – relying on locals to keep the hotels busy.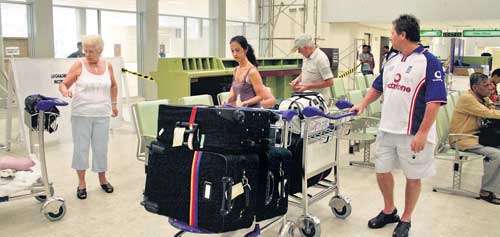 Tourism is invariably the first casualty of Sri Lanka's conflict which is again seen from the desperation in the industry to recover quickly and move on after last week's forays into Colombo's air space by Tiger planes. Picture shows tourists at the Colombo airport, a day after Tiger aircraft attempted to bomb the Katunayake airforce base at midnight on March 25. Pic by M.A. Pushpakumara.
"We have gone from bad to worse but rather than grumble we need to move on, retain staff and keep the hotels going," Hiran Cooray, President of the Tourist Hotels Association of Sri Lanka (THASL) told The Sunday Times FT on Friday soon after a crisis meeting of the association.
While industry players fear the fallout from the chaos and mayhem caused by Tiger aircraft flying across Colombo without being shot down would gradually seep in, in coming months like a 'cancer', the THASL is relying on a combination of elderly and disabled Sri Lankans, expatriate Sri Lankans and resident expatriates to fill up hotel rooms. Tourism has always been the first casualty in an economy hit by conflict.
The THASL decided on Friday to offer special packages – through its members -- to elderly persons funded by their children living abroad, the disabled, other Sri Lankans and resident expatriates as a temporary measure. The promotional packages would be finalized next week, Cooray said adding that inbound travel agents have also offered to help.
On the positive side, he said the industry was working together with the Tourism Ministry and the Tourist Board in meeting these challenges. "This is a positive development where we are working together in a 'sink or swim together scenario'. We all have one common goal – to overcome this crisis and move to the next level," he said.
Not easy, according to industry analysts, given the fact that inbound tourism will hit new lows following restrictions on flights to Colombo due to an impending night curfew at the airport for all commercial aircraft. This will reduce flights and load factors.
Chairman of the Sri Lanka Tourist Board Renton de Alwis, referring the night closure of the airport from May 10, welcomed the move as a 'proactive one to ensure that we address the safety concerns of all our operators in all sectors of the tourism industry."
He said Sri Lanka has always acted responsibly in placing the highest priority on the safety aspects. "Although this may cause some degree of inconvenience to some passengers and airlines in making connections, the positive impact of having addressed the safety issue far outweighs all of that and Sri Lanka Tourism commends this proactive move," De Alwis noted.
Cooray said uncertainly is – and has been -- the 'killer' for the industry. "You can't plan anything because you don't know what would happen. We have to put on a brave face and move on."
Top government sources said security authorities are studying ways and means of meeting the threat by either destroying the aircraft or having a sophisticated system to detect its presence before it enters Colombo's airspace.
There have been no major cancellations of tour groups particularly since this is the low season for the industry here. UK-based First Choice Airways, the only charter operating from the UK, had its weekly flight on Wednesday and was flying in next Wednesday too with a group of British tourists.
However a spokesperson for Hemas Group, its local agents, said given the prevailing situation and low sales, First Choice its seriously evaluating its Sri Lankan programme
She said like all other airlines, Malaysian Airlines, also handled by Hemas, has rescheduled its flights to day-ones only which is 'actually convenient for passengers'.
SriLankan Airlines has said it would operate only day flights while Cathay Pacific suspended flights less than a week after returning after an earlier air raid prompted a suspension. Emirates resumed flights on Friday after a temporary suspension while Singapore Airlines is flying during the day. Airlines have sought a safety guarantee from the authorities that the planes wouldn't get caught in the crossfire if a similar situation arose as last week when Tiger aircraft flew into Colombo's airspace and Sri Lankan security forces shot at random in a bid to bring them down.
The day-only flights will reduce carrying capacity to Colombo and also create some problems in relation to schedules for foreign airlines. Some airlines, The Sunday Times FT learns, are unable to find enough aircraft to fly into Colombo during the day while finding fresh day-slots in other airports is also a problem for outbound flights from here.
Tourism authorities are also considering more promotional focus on short haul sectors – South Asia, Asia and the Middle East – where the flying time is five hours and less and would cause fewer problems in finding parking slots in other airports. "The problem flights are the long haul 10-hour flights to London, etc," one official said.
But businessmen who hop to Singapore, Bangkok or India on a quick business trip say their costs will rise. "We would normally take a night flight to Singapore, discuss business at breakfast there and then return to Colombo on a night flight. Now we would have to spend two days," one clothing industrialist said. In fact the number of trips by local companies dealing with garment buyers is set to increase due to the reluctance of foreign buyers visiting Sri Lanka in the short term.
Some local conglomerates have also put investment and expansion plans on hold for the moment till, as one director said, 'the uncertainty ends." There were also concerns on whether the crisis would raise insurance premiums on shipping and airlines.