High-flyers in double disaster
Mangala reveals more details of alleged deal with LTTE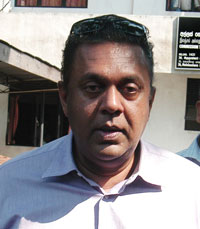 "Not everyone knows the entire story. Even I know only some parts of it," claims former Minister of Foreign Affairs, Ports and Aviation Mangala Samaraweera, commenting on his colleague and ex Minister Sripathi Sooriyaratchchi's charge about a link between Government leaders and the Liberation Tigers of Tamil Eelam (LTTE) before and after the Presidential Elections.
As Campaign Manager for Mahinda Rajapaksa during November 2005 presidential elections, my task was to ensure there was free and fair election, said Mr. Samaraweera. This is particularly in the North and East. "I did not want a repeat of the unsavoury things that went on during the last parliamentary general elections and worked towards that," he added.
That was the time Tiran Alles, Chairman of the Sri Lanka Airport and Aviation Services Ltd., had a private company that supplied mobile telephones to the North. He had a lot of business contacts in Kilinochchi.
"I mentioned this to Mr Mahinda Rajapaksa. He advised us to ask Tiran to go to Kilinochchi and talk to people there. He went there twice," he said. As a result, Samaraweera said, "a person who had close links with those at the LTTE Peace Secretariat was established. He was the go-between. I do not want to name him.
Once, he said, "this go between met me and Senior Advisor to the President, Basil Rajapaksa, at my official residence at Stanmore Crescent. Thereafter, it was Basil who dealt with him throughout."
Samaraweera said "I was floored" on the day of the presidential election when "Basil told me voters in the north would boycott the presidential elections."
This came at a time when Sripathi Sooriyaratchchi was placed in charge of the conduct of the polls for the SLFP in the north. He had mustered some 400 polling agents to go to Jaffna. They had been trained. "However, Basil told me thereafter it would not be necessary to send these agents."
"I only know this part of the jigsaw puzzle," said Samaraweera. He said this was why they were calling for a Parliamentary Select Committee to go into the entire matter. He said despite Sooriayarachchi raising issue, there has not been a denial from the Government. "They have only been painting us black and continue to ignore the charges we have made," he added.
Basil Rajapaksa was not available for comment yesterday.
It seemed a bizarre mix. Cricket lovers and champions of human rights the world over were paying equal attention to Sri Lanka this week. At a virtually empty stadium in Trinidad in the Caribbean, Sri Lankans beat the babes of world cricket, Bermuda, in their first encounter. In the new bid to become World Champions, emulating the great success of 1996, it was indeed a good start. Most Lankans, who saw it on their television screens on Thursday night, no doubt, hoped the other matches too would be won. Thus, they prayed for the return of greater glory in that glorious game of cricket.
But elsewhere, that glory earned from cricket was being rapidly eroded by a haunting not so new phenomenon; one Sri Lanka experienced before - the rapidly deteriorating human rights situation marked with kidnappings and killings, and bodies turning up in swamps. Most Sri Lankans watched their cricketers perform in Trinidad live via satellite through national television Rupavahini on Thursday night. At the same time, there were others who were witness to a highly embarrassing television spectacle. Some satellite channel operators were beaming BBC's Hard Talk programme.
In the spotlight was the new Minister of Foreign Affairs, Rohitha Bogollagama, who has broken a new record. In a short span since assuming office, he has already travelled to countries in three continents, Asia, Europe and America. Some wags remarked that at this rate, he would soon beat all of his predecessors, beginning from the late A.C.S. (or 'All Countries Seen') Hameed. Political cartoonists then lampooned Hameed alighting from an aircraft to do a shower change in Colombo for his next journey. Of course, he took the criticism in his stride and enjoyed it. He remarked to a friend that the cartoonist forgot to include his Cuban Cohiba cigar in hand - a regular gift from Communist Cuban President Fidel Castro to Capitalist Sri Lankan President Junius Jayewardene.
BBC's Allan Little fired question after question to Bogollagama during Hard Talk. He was clearly bewildered by most of them. As a Colombo based western diplomat summed up, "he looked like a rabbit baffled by the headlights of a car." Even if the remark was somewhat uncharitable, it underscored the Foreign Minister's predicament of going thoroughly unprepared to the programme known for its aggressive line of questioning. If state run television networks are in the habit of re-broadcasting such Hard Talk programmes with Sri Lankan dignitaries, to project how boldly they performed on their visits abroad, this would certainly be an exception. Chilling enough, Little was to remark during the Q and A that the human rights situation in Sri Lanka was akin to what prevailed in Chile during the late dictator Augusto Pinochet's time. What a pity, Bogollagama was not up to it to quip that Pinochet at least had a staunch ally in then British Prime Minister Margaret Thatcher.
That such a remark came when the United Nations Human Rights Council was meeting in Geneva this week was both damning and damaging enough. Worse were the facts that that the programme, in the absence of an effective Government response through Bogollagama, tended to give credence to the multitude of complaints voiced in Geneva. The Government, it appears, has been troubled since the conference began there.
Bogollagama's foreign travels are highlighted by another distinct feature. The media in Colombo are deluged with photographs and news releases giving details of whom he met and what he said. Not that his predecessors did not believe in such news releases to tell their country what a great job they were doing abroad with all the world dignitaries who matter. There seemed a distinct difference in the case of Bogollagama. The volume of news releases was enormous. If that was bad enough, what was worse was the fact that some salient features that transpired during his talks were conveniently left out or given a different spin in the news releases. That 'news management' where facts are 'doctored' and 'engineered' was to keep away from Sri Lankans some of the hard realities. Here is an example:
During his meeting with Foreign Minister Rohitha Bogollagama last week, UN Secretary-General Ban Ki-moon did not mince his words. The press release put out by the Foreign Ministry in Colombo, needless to say, gave a political spin on the story highlighting only the seemingly positive. But it conveniently left out the "deep concerns" expressed by the Secretary-General on the "ongoing deteriorating situation in your country." The UN Secretary General offered to provide any help in the government's efforts to find peace and security.
Ban told Bogollagama he was also "deeply concerned" about human rights violations in Sri Lanka. He said he hoped the government would pay "serious attention to this matter".
He specifically mentioned about the recruitment of child soldiers and the lingering accusation that certain elements in the military were turning a blind eye to the ongoing recruitment by the Karuna faction -- as reflected in a report by UN Special Representative Alan Rock, a former Canadian Permanent Representative to the UN.
Ban also raised the issue of the difficulties encountered by UN relief and humanitarian agencies working in the war zones. He told Bogollagama that UN agencies should be made "comfortable" and also provided with the right working environment to accomplish their humanitarian missions.
Bogollagama denied that the situation in Sri Lanka was "deteriorating" and pointed out that the government was only involved in a "limited engagement" to clear areas controlled by the LTTE. He said he wanted to place on record that the government was in no way collaborating in child recruitment. He appealed for UN and international support to fight the LTTE, which he said, was increasingly cooperating with "Al Qaeda elements."
But the fact that the Foreign Ministry press release omitted some of the key remarks made by the UN Secretary-General, right or wrong, casts the Ministry in very poor light. Wanting to project your visit as being a huge success is one thing, but being economic with the truth is quite another, and what is more, it misleads your countrymen, to say the least.
There were more gaffes on the human rights issues. Last Tuesday, when a daily headlined a report titled 'HR: Govt. invites two UN envoys," President Rajapaksa was angry. It was part of a speech by Sri Lanka delegation leader, and Foreign Minister aspirant Mahinda Samarasinghe. He declared that the UN Special Rapporteur on Torture and the Special Representative of the Secretary General of the human rights of Internally Displaced Persons (IDPs) were invited to Sri Lanka. Presidential aides wondered whether Samarasinghe, like in the case of him taking Colombo based diplomats and UN officials to Batticaloa on February 27, had acted on his own in inviting the two UN officials. Samarasinghe clearly forgets that he is not the Foreign Minister, yet. He certainly is not the President, yet, though he signed so, mistakenly of course, when he took his oaths from President Rajapaksa last month.
A senior Presidential official was directed to immediately get in touch with Sri Lanka's Permanent Representative at the UN in Geneva, Serala Fernando. She was told to ascertain from Minister Samarasinghe whether he had extended such an invitation to UN officials. If it was not the case, he was told to issue a contradiction to the newspaper in question. It was much later in the day when the situation cleared. The references to the invitation to the UN officials were part of the official text of Samarasinghe's speech that had been distributed to the local media. The Minister for Disaster Management, now known more for his political and diplomatic disasters, was to explain that the invitation to the UN officials had been extended not by him but by the Ministry of Foreign Affairs.
Yet, it was not only Government leaders who were unhappy at his utterance. The Janatha Vimukthi Peramuna (JVP) declared in a statement that the decision to invite the two UN envoys to examine human rights violations was a "show of stupidity" and a treacherous act that would harm the country more than it did by involving Norway as peace facilitators. "Those international forces that interfere in the internal affairs of countries under the pretext of supporting to resolve national conflicts are now attempting to get the entire authority of controlling the country and their modus operandi is to level charges against human rights violations," the JVP said.
The JVP's message was not lost on the Government. Defence Spokesman Keheliya Rambukwella told a news briefing the next day (this Thursday) that the Government would not allow any infringement of the sovereignty of the country by allowing any foreign organization to force it to permit foreign observers to operate in Sri Lanka. The message was thus made clear to both Foreign Minister Bogollagama and Disaster Management Minister Samarasinghe, both political pole vaulters from the United National Party (UNP) - they remain UNPers - and now in the forefront of trouble shooting for the Mahinda Rajapaksa Administration. The SLFP old guard seemed totally obscured as the UNPers played star roles.
Initially, Samarasinghe's delegation to Geneva, among others, comprised the following: Solicitor General C.R. de Silva, Secretary, Ministry of Justice Suhada Gamlath, Serala Fernando, PR in Geneva, Deputy Solicitor General Yasantha Kodagoda, Deputy Solicitor General Shavindra Fernando, Deputy Inspector General of Police (International Affairs), Asoka Wijetilleke, Additional Secretary, Ministry of Human Rights and Disaster Management, D.K.D. Amerawardena, Deputy Director of the UN Division in the Foreign Ministry, S.P. Pathirana. Director (Legal Division), Sri Lanka Army, Brigadier Mohanti Peiris and Chief Legal Officer of the Sri Lanka Air Force, Group Captain Ramya Dehideniya.
Later, the Government had to dispatch two more to join the team during interactive sessions. One was eminent lawyer and one time Sri Lanka's Permanent Representatives at the United Nations, Daya Perera. The other was Dayan Jayatilleke, one time activisit of the Eelam People's Revolutionary Liberation Front (EPRLF) which was then fighting for a separate state in North and East Sri Lanka. He is now a staunch supporter of the Rajapaksa Administration. Jayatilleke was at one time a Minister of the North East Provincial Council, whose Chief Minister, Varadaraja Perumal, once unilaterally declared independence (UDI) at a ceremony in Trincomalee. In the recent months, Jayatilleke, playing the role of columnist, lecturer and campaigner has not only been a strong defender of Government policies but also a bitter critic of those who expressed diverse views against such policies.
Jayatilleke has been named the new Permanent Representative for the United Nations in Geneva to replace Serala Fernando. The move will mean the cancellation of the appointment of Gita de Silva, a senior career officer who has on recent occasions acted as Foreign Secretary. Her appointment was cleared by the High Posts Committee in Parliament and her agremot has been accepted by the UN. A similar cancellation of a diplomatic appointment has been of Clarence Chinniah, who was named as Sri Lanka's envoy to Italy. His name too was cleared by the High Posts Committee after his nomination was accepted by the High Posts Committee. The Government has now begun second guessing its own appointments, appointing and sacking their appointees even before they have assumed office.
It was only on Thursday that German envoy to the UN in Geneva, Michael Steiner, spoke on behalf of the European Union, and raised issue over what sort of action the international community, should take to work with the Government of Sri Lanka. He raised issue barely days after a four member Civil Monitoring Committee met in Colombo with German Ambassador Juergen Weerth. The four were Suresh Premachandran, Mano Ganesan, Lakshman Kiriella, all parliamentarians and Siritunga Jayasinghe.
A member of the delegation told The Sunday Times that Ambassador Weerth knew much more than the delegation members told him. He had already taken up many of these issues with President Rajapaksa on several occasions. Weerth had also disclosed details of a recent meeting he had with Army officers in the east together with fellow diplomats. Army officers had explained that IDPs are reluctant to go back to their homesteads without adequate security and basic facilities. Army officials were of the view that some of the tasks had to be carried out by civilian authorities, the German envoy has said. The delegation was to tell him that the Government Agent, Batticaloa, was unable to cope with the IDP influx. They had said 94 schools there had been closed to accommodate IDPs. The delegation sought Weerth's help to bring about a halt to abductions and to seek the release of those missing.
On Friday, attempts to take bus loads of IDPs from camps in Batticaloa district to their homesteads met with stiff opposition. The Human Rights Watch alleged in a statement that the IDPs were being forced to return under threat of their daily rations being deprived. Government officials on the other hand argued they could not continue to maintain the IDPs in camps forever.
Elsewhere in the political canvas, ousted former Foreign Minister Mangala Samaraweera and his colleague, Sripathi Sooriyaratchi, turned up at the office of the Commission Investigating Bribery or Corruption last Wednesday. They handed over to the Chairman of the Commission, Amir Ismail, a Sinhala translation of a front page news item in The Sunday Times of December 3, last year, on the procurement of Mig -27 bombers from Ukraine. They urged the Commission to investigate the matter.
Samaraweera says that the next day he was removed from the post of Sri Lanka Freedom Party (SLFP) organiser for Matara. He has been replaced by the Chairman of the Matara Urban Council Upul Nishantha. He has also been stripped as District Organiser for Matara and replaced by Transport Minister Dullas Allahapperuma. Similarly, non Cabinet rank Minister Mervyn Silva has been named to replace Sripathi Sooriyaratchi as the Kelaniya organizer. The decisions were made by the SLFP Central Committee on Thursday night. According to Samaraweera, President Rajapaksa had taken that action because of the complaint made to the bribery officials about a military procurement deal that came under the Ministry of Defence headed by his brother, Gotabhaya who is the Secretary. "I have won the hearts of the people of Matara. That is all that matters to me," he said. Rajapaksa aides said the action was in the light of the breach of party discipline by the two members.
The Samaraweera-Sooriyarachchi duo have also been making accusations that Government leaders had a secret deal with the Liberation Tigers of Tamil Eelam (LTTE). The Sunday Times asked Samaraweera for his on-the-record position over this snowballing issue. They appear as a box story on this page.
As the Avurudu season nears, the Rajapaksa Administration appears to be waging war on a number of fronts besides the Tiger guerrillas. Human Rights issues, the spiraling cost of living, the rapidly deteriorating economic situation, the breakdown in law and order, rising corruption are just a few of them. The answers to them, it appears, are to take up cudgels with those pointing them out. That, alas, is now what's becoming the legacy of the new Rajapaksa Administration.