Sri Lankan filmed 'Water' soars to new heights at Oscars
With a Sri Lankan child actress playing the lead along with a number of supporting stars and shot entirely in Sri Lankan locations in the sets designed by our own art director Errol Kelly, Canadian based Deepa Mehta's latest direction 'Water' is slotted at the world renowned Oscars' Best Foreign Language Picture category.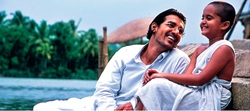 Jayani Sarala with John Abraham in a scene from 'Water'
Revolving around a child widow 'Chauya' played by Jayani Sarala, it's certain that this little lass from Galle Sangamitta Balika Vidyalaya would impress the whole world with her impressive performance.
'Water' is a product of the labour of many a Sri Lankan film artiste which includes Irangani Serasinghe and Buddi Wickrema in supporting roles in addition to a large number of extras in the film in which the internationally famed local art director Errol Kelly and his team in the Film Location Service run by Chandran Rutnam recreated an impressive set of the Indian holy city Varnasi by the river Ganges at Bolgoda Lake off Colombo.
Lester James Peries' 'Wekanda Walawwa' (Mansion by the Lake) contested in the same catogory last year. This year 'Water' which holds a large Sri Lankan contribution given the Canadian director Deepa Mehta contests at the Best Foreign Language film award category.
Seema Biswas received the 2006 Best Actress Genie Award for her performance as the progressive widow Shakuntala in Water. John Abraham and Lisa Ray play the romantic lead in the film set in 1938 in pre-independent India 'Water' deals with India's road to independence and examines the plight of impovershed widows at a temple in Vainasi.
Jubilant over making it to the final five, the Indian born director Mehta spoke "I am so thrilled with this news. This film has meant so much to me. We have experienced so much, that to have it all end in such a way is best thing I could have wished for,"
The film starring John Abraham, Lisa Ray and Seema Biswas among others is slated for the run with Pan's Labrinth (Mexico), 'After The Wedding' (Denmark) 'Days of Glory (Indigènes)' - Algeria and German Cold War drama 'The Lives of Others'.
The last in Mehta's triology movie which include "Fire" and "Earth", the film shooting with Shabana Azmi and Nandita Das was originally scheduled to be shot in the holy city of Varanasi was suspended when Hindu extremists set fire to the sets. Then she turned to Sri Lanka with an entirely different cast from India and with confidence that she would find a child actor from Sri Lanka to play the crucial role as a child widow in 'Water'.
Later, expressing her views on the selection Mehta told the media "I was impressed with the latent talent found in Sri Lanka. The little girl Sarala from Galle who played the most important role in "Water" and whom I picked up accidentally amazed me with her adaptation to the role. She is a natural actress and she was wonderful. She had a 'star' quality in her, What delighted me was that she was my 'find''".
"I think my instinctive choice was correct when I selected Sri Lanka as the location and sought a Sri Lankan back-up cast for my film," she stated.
Sarala outbound for the Oscars
The Sri Lankan born child actress Jayani Sarala Kariyawasam will rewrite the film history of Sri Lanka when she appears at this year's Oscar representing Academy Award nominated 'Water' directed by Indian born Canadian director Deepa Mehta.
Sarala, a grade 7 student from Galle Sanghamitta Balika Vidyalaya is the first Sri Lankan to make it to Hollywood through a film that was nominated for the final round of the Oscars.
'We went into our ecstasy when Deepa conveyed us the good news on Tuesday night' said Sarala's mother Mrs. Bhawani Kariyawasam. Sarala will leave for America on February 24.
'We have been receiving numerous calls from foreign media as well as Sri Lankans in Canada and America just after the announcement of the nomination last Tuesday' said Mrs. Kariyawasam.
Sarala along with her family members will be there at the glittering ceremony at Hollywood's Kodak Theatre in Beverly Hils, California on February 25.